Looking to take your beard game to the next level, then you are in the right place as any modern bearded fella needs to take good care of their beard with the right products, that includes beard growth oil, so today we'll be telling you about some of the very best beard growth oil you should try.
Many men use their facial hair as an extension of their personality and will gladly spend the money on providing the care and management their manly beards needs. Most people think facial hair does not need any extended product, but it needs just as much attention as the beautiful locks you keep on top of your head. This is where beard care products become key components, like beard oils, fragrances, creams, paste, conditioners, and shampoo.
For any bearded fella or those who want to grow a beard, beard oil is of utmost importance. Beard oil has the ability to restore the softness and luster of poorly kept beards, and give them new life.
Always look for natural ingredients that will ensure moisture of the skin at the hair root, which will make way for a good-looking beard.
Beard Balm vs Beard Oil
If you're wondering how to choose between beard balm or beard oil or which should you be using, it all comes down to the length of your beard and specific beard needs. If you have a medium to a long-length beard, you could use both for different purposes; however, you may feel you need more one than the other if you have a thin or patchy beard.
Beard balm is recommended for guys that have a medium to a long-length beard. It is used to help shape your current beard and tame flyaways. It is also effective in styling your mustache or sideburns. Beard balm screams, "just got out of the barbershop" perfect look.
While oil is essentially just a mixture of oils that won't provide any structure or support for your beard, it is equally important in keeping your beard moisturized. Unlike beard balm, oil is used mainly for moisturizing the skin underneath your beard. Beard oil works as an excellent natural deodorizer, leaving your beard smelling fresh.
Beard oil is typically recommended for all beards, but especially in the early stages of beard growth. All in all, these are both fundamental grooming products for the modern beards man.
Coconut oil for beard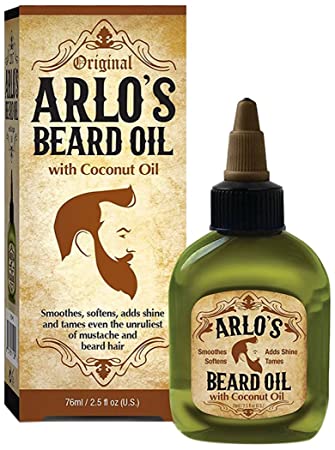 Coconut oil has numerous beneficial properties that make it one of the most common ingredients in beard balms and oils. It is non-comedogenic, so it is safe to use on your beard.
Coconut oil provides excellent conditioning properties, helping to soften and strengthen the hair to prevent breakage. When used regularly, it will tame unruly and wiry beard hairs.
Coconut oil also provides a calming effect that will instantly relieve that dry, itchy sensation often experienced with longer beards.
There are many coconut oil options available at large online marketplaces and local natural-focused brick and mortar stores. Just ensure that the coconut is intended for skin and hair use before application.
Check out this Steve and Sons Barbershop Coconut Beard Oil -on Amazon.
Castor oil for beard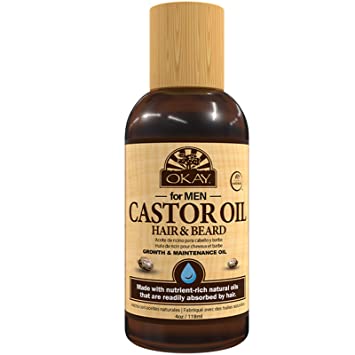 Castor oil is great for your hair because it is high in vitamin E and other minerals. It is well known to be used on hair due to its excellent effect on reducing skin irritation, dryness, and flaky skin. So if you suffer from dandruff (hair or beard), castor oil can help remedy the situation.
In addition, Castor oil is credited with promoting slightly faster growth since it helps promote increased blood circulation.
The downside is that castor oil is incredibly thick and viscous; it won't be absorbed into the skin and hair as easily and is also difficult to wash out.
Beard Farmer – Growther Beard Growth Oil (Grow Your Beard Fast) All Natural Beard Oil has little amounts of castor oil in it. Find it on Amazon.
Argan oil for beard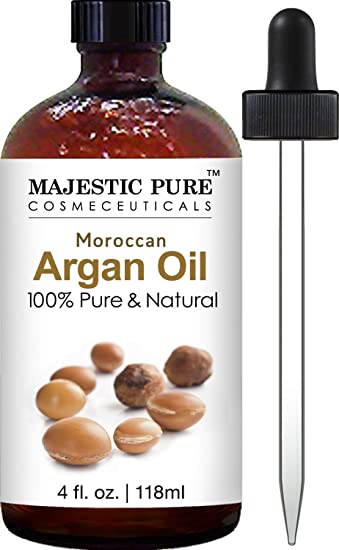 Among all-natural oils, argan is considered far-and-away one of the best due to its many beneficial properties.
In Morocco, where argan trees naturally grow, the oil has been used for culinary, medicinal, and cosmetic uses for centuries. Not only can it be used to help heal burns and treat arthritis, but argan oil is also effective at eliminating acne and problems with dry, itchy, or flaky skin.
In terms of oils to promote healthy, shiny, and strong hair growth, argan oil for beard growth really is the gold standard.
Check out VoilaVe Argan Man Skin, Hair, Beard, and Body Oil for Men; it is 100% Pure Cold-Pressed USDA & ECOCERT Certified Organic Moroccan Argan Oil with no fillers plus Sandalwood Oil for natural anti-graying and an unmistakably masculine scent. Find it on Amazon.
Tea Tree oil for beard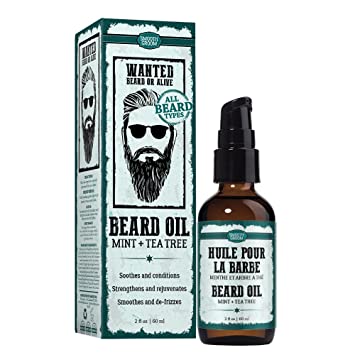 Tea Tree Oil's medicinal and healing properties make it especially beneficial for skin and hair. It replenishes skin and hair vitality by soothing inflammation and restoring moisture.
It works similar magic on beard hair and the skin underneath too. Eliminating all the problems that hinder natural beard growth. The reason why it's particularly beneficial for beards because tea tree oil acts as a natural cleanser against bacterial infections that affect beard follicles.
Try out Classic Beard Oil, Rich in Organic Tea Tree Oil; this beard oil is made from sandalwood oil, tea tree oil, golden jojoba oil, almond oil, and various other high-grade moisturizing oils. Rich in natural and organic ingredients, no damage to the skin. Find it on Amazon.
Jojoba Oil for beard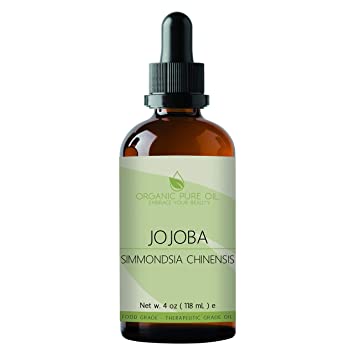 Jojoba oil is one of the most recommended oils for promoting hair growth. It provides the necessary moisture and nutrients that give your beard a much-needed boost.
This oil also contains high levels of strengthening vitamin E and provides most of the same benefits as argan oil. It is easily absorbed into your skin and beard for deep hydration to transform your beard from good to great.
Check out this Live Bearded: Beard Oil – Legend – Premium Beard and Skin Care with Jojoba Oil. It helps with beard Itch and dry skin relief, and it is handcrafted with All-Natural Ingredients. Find it on Amazon.
Olive Oil for beard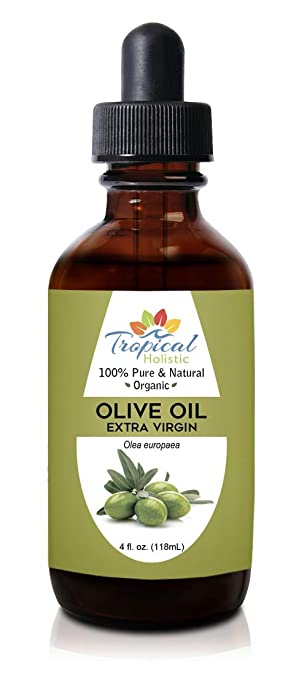 Olive oil isn't only for your food, women widely use it, and it can also greatly benefit a man's beard. It is also rich in vitamin E, and thanks to its high levels of antioxidants, olive oil helps promote healthy cellular growth.
Olive oil works like a fantastic conditioner that will leave your beard softer, shinier, and more manageable.
You can try out Wisdom Beard Oil by CanYouHandlebar. It is made with Olive Oil, Grape Seed Oil, Rice Bran Oil, Jojoba Seed Oil, Vitamin E Oil, Meadowfoam Seed Oil, Essential Oils.
Emu Oil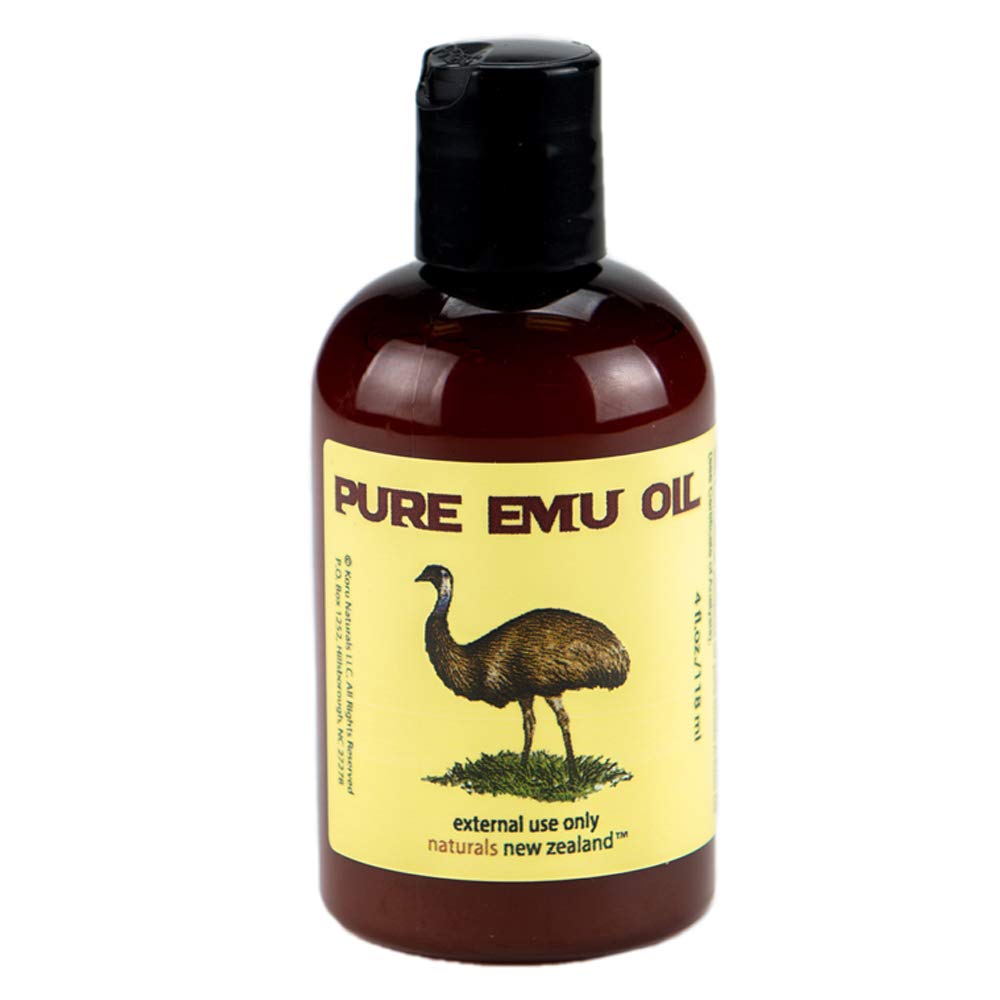 Emu is widely known as a cure for baldness and psoriasis, dandruff, and other skin conditions. And men often employ it in an attempt to cure their baldness.
It contains a mix of essential fatty acids that allows emu oil to provide many benefits to the skin and hair.
Find this Emu Oil by Leven Rose, 100% Pure Natural Hair Strengthener -on Amazon. It promotes hair growth & moisturizes hair with Omega 3, 6, & 9 fatty acids, linoleic acid & oleic acid.
Grape Seed Oil

You will love grape seed oil as it is very effective at unclogging pores, thereby preventing acne and also eliminating problems with ingrown hairs.
Grapeseed Oil is a light, odorless oil with mild emollient properties. This versatile oil has numerous essential fatty acids, including linoleic, oleic, stearic, palmitic, myristic, and lauric.
This makes it a fantastic choice for new beard growth since it paves the way for a healthy-looking beard.
Check out NOW Solutions, Grapeseed Oil, Skin Care for Sensitive Skin, Light Silky Moisturizer for All Skin Types. Find it on Amazon.
Moroccan Oil for beard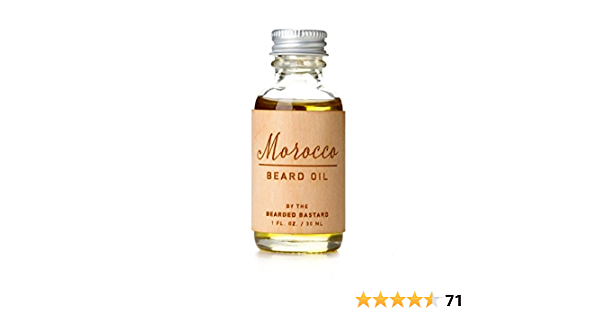 Moroccan oil contains fatty acids that make it a fantastic moisturizer. It can improve the appearance of dry hair and skin and add shine to hair. It can softens any gentlemen's beard.
In fact, there has been some research that indicates that argan oil may be a treatment for psoriasis. This natural oil helps facial hair stay soft and reduce itchiness associated with beard growth.
Check out the Morocco Classic Beard Oil from The Bearded Bastard. It is an adventurous blend of exotic oils and spices — peppermint, cloves, vanilla, coffee, and precious resins.
Cedarwood Oil for beard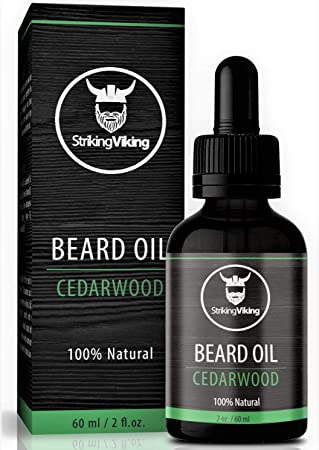 Cedarwood oil is a revolutionary one; it helps hydrate, condition, and add shine to your beard while moisturizing the skin beneath it.
The cedarwood scent of your beard will waft throughout the air, leaving behind the subtle scent of success everywhere you go. In addition, it helps stop beard-ruff and Itch and keeps facial hair flake-free and smelling fresh.
Check out Cedarwood Beard Oil from Rocky Mountain Barber. Their premium oil is cold-pressed; the eight oil blend helps prevent itchiness and flaking that can come with a dehydrated face and beard.
Beard oil bottles
You probably think of the little small glass tincture bottle with the protruding dropper when you think of beard oil bottles.
Many companies start off marketing their beard oils with our standard Boston round glass bottles for beard oil products. Still, there are also different color variants from Matte Black, White, Opal, and Frosted Amber.
Glass bottles for beard oil are not only meant to look stylish. These glass bottles for beard oil will provide great UV Protection, which prevents your oil from expiring too soon. Ultimately beard oil bottles provide necessary protection for all types, whether these are vegan or plant-based oils.
You can find Boston Round Glass Bottles with cap, on Amazon.
How often should you use beard growth oil?
Think of beard oil as a leave-in beard conditioner that should be used regularly to keep your facial hair soft, hydrated and looking attractive. They key here is to avoid overdoing it.
So how often should you apply? The answer varies from person to person because everyone is different. Too little will leave your beard feeling a little dry; too much might leave you feeling greasy.
The amount of oil you use will depend on the length of your beard. A good recommendation is to use between 4-5 drops of beard oil. Put the drops of oil into your hands and rub them together, heating the oils. Start by rubbing the oils on your skin first and work your way down your beard, evenly distributing it.
For longer hair gentleman, we recommend using a comb to distribute the oil throughout your beard evenly.
The best time to apply is after washing in the shower, once a day is enough for some, but others like to apply a little before bed too. This will also depend on what works best for you.