In a sea of beard products, beard butter it's a must-have for beards that want to stay healthy and in shape, grow fuller and faster, and look and smell fantastic—the reason why we'll be covering today our ten picks for the best beard butter.
If you consider yourself the type of manly man that takes charge of the destiny of your beard, then you may want to look into the best beard butter possible for your specific beard needs. If a stylish beard is what you want and what a man wouldn't, then beard butter is a perfect styling tool for the look of refined facial hair.
We understand that sometimes it is not so simple to tame a thick and neat beard, but with the right beard butter, you'll become an avid groomer, one that cares for his beard and keeps it not only stylish but one that cares about adding a magnificent shine to his thick beard as well.
Now that you know how important it is to add this product to your beard grooming routine, it is time to choose the right product.
What is Beard Butter?
Beard Butter is the perfect medium hold, smooth, creamy, buttery beard conditioner that falls in line between beard oil and beard balm.
Basically it is a lotion with some additional ingredients to scent, grip and growth. This is a ready made item to apply for styling, fast growing, and as deep conditioner.
It is mostly an oil-based and sometimes water-based product that will help you keep your beard moisturized, soft, stylish, on hold. It tames flyaway hairs. As you can see, it has many benefits for a great-looking beard.
How to use Beard Butter
First off, make sure that your beard is clean and dry before applying your Beard Butter.
Scoop out a small amount of sizing to your fingernail. Figuring out how much you need will depend on the length or thickness of your beard.
Rubbing your hands together, melt the product. Then evenly rub it into your beard.
Comb your beard with a wide-tooth sandalwood comb.
Style your beard as you want to.
Best Beard Butter Products
Live Bearded: Beard Butter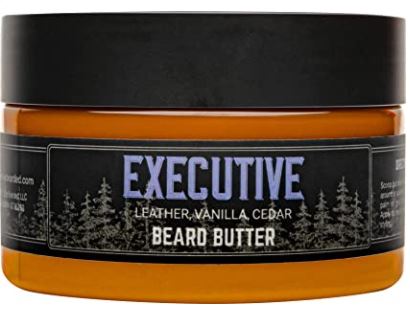 This light/medium hold formula locks in deep moisture control flyaway hairs and keeps your beard styled without weighing it down or feeling greasy.
Optimal beard growth requires real ingredients that not only moisturize but are also genuinely good for your skin and beard hair. Find it on Amazon.
Every Man Jack Beard Butter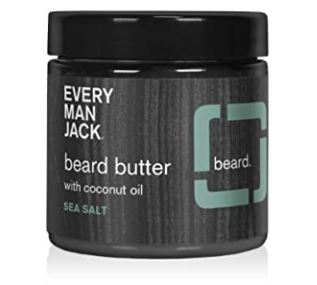 This Beard Butter helps to rejuvenate and style dry and unruly beards while helping to relieve itchiness and curbing runaway hairs, all while leaving a light Sea Mineral & Citron fragrance.
Every Man Jack Sea Salt Beard Butter is made from naturally derived ingredients. Cocoa butter helps to relieve itchiness and provides deep hydration.
This product is certified Cruelty Free; additionally, Every Man Jack Beard Butter is made without the use of parabens, phthalates, and dyes. Find it on Amazon.
Oak City Beard Company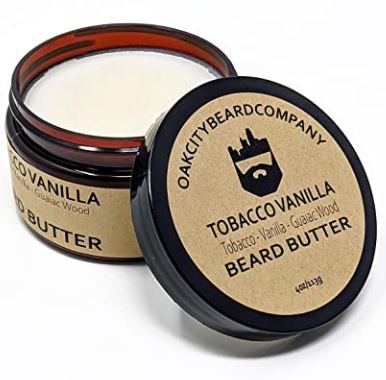 This Beard Butter conditions your hair to the roots and helps to prevent dry, itchy skin. Its specific ingredients moisturize and nourish both your skin and hair.
Your beard will have a luxurious feel and shine and will look and feel its best. It is formulated to be gentle and safe for all types of hair and skin.
Ingredients include Shea Butter, Coconut Oil, Beeswax, Safflower Oil, Jojoba Oil, Castor Oil, Fragrance, Vitamin E. Find it on Amazon.
Maestro's Classic Mark of a Man Beard Butter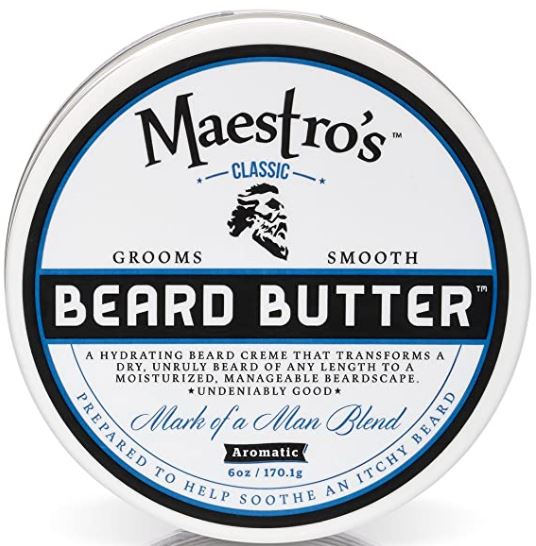 Maestro's Classic Beard Butter was created to hydrate and groom a man's mane so you can say goodbye to your once itchy, unruly beard.
This hydrating creme is water-soluble rather than oil-based and succeeds in bringing moisture to the skin on your face and the hair on your chin.
The result is an instant soothe and less itchy beard scape. A lightweight product containing multiple conditioning agents will groom, soften and make your beard more manageable. Find it on Amazon.
Magic Men's Grooming Conditioning Beard Butter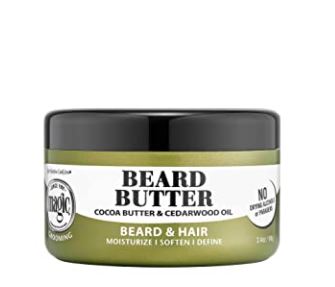 This beard butter is formulated with cocoa butter and cedarwood oil to provide the softness and definition of your beard and hair.
Magic grooming beard butter for black men helps moisturize, soften and define your beard and hair to achieve a perfectly groomed look without compromising style or comfort.
Men's grooming beard butter will moisturize and condition your textured hair and beard while helping with manageability too. Find it on Amazon.
Beard Guyz Beard Butter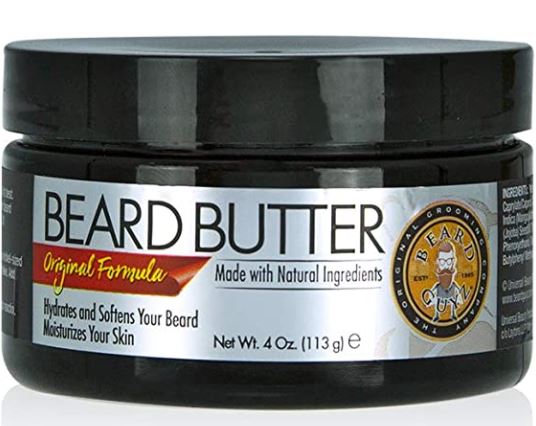 This unique moisturizer transforms a dry, unruly beard while relieving itchiness, leaving you with a great appearance along with a fresh, light, clean smell.
It is a natural exclusive formula that includes Shea and Mango butter combined with Coconut Oil that tames your beard, never leaves you greasy, and always smells great.
It applies evenly, absorbs naturally, and softens the beard for a natural look. Will never leave your beard tacky or sticky. Find it on Amazon.
Grave Before Shave Cigar Blend Beard Butter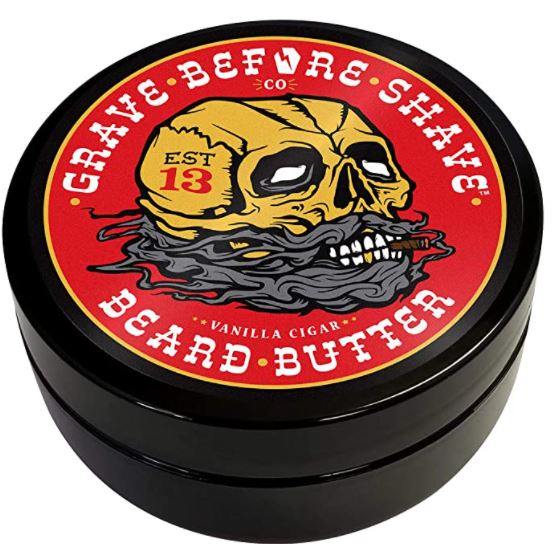 This Beard Butter is a easy to apply and deeply softens your Beard and skin.
Using only the best butter and oils available, this butter contains NO beeswax providing less drag when brushing to keep hair pulling and damage minimized!
To use scoop out the desired amount with your finger, dissolve the balm by rubbing between your hands, then apply to your beard with your palms and fingers; once the desired amount has been applied, you can shape it with your hand's comb and comb or brush. Find it on Amazon.
Detroit Grooming Co. Beard Butter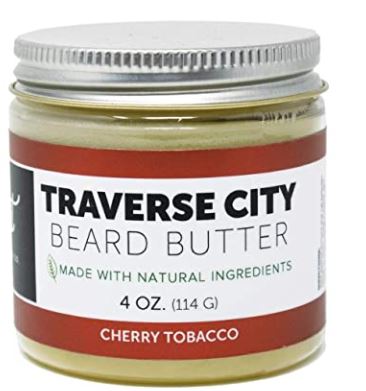 This premium 'Traverse City' beard butter works as an all-natural styling balm and conditioner that has a great cherry tobacco scent for men.
The smooth texture in this beard balm will leave your beard looking and feeling amazing, with the vitamins, nutrients, and antioxidants give your beard the proper nourishment.
Designed to promote beard growth and thickness, the Traverse City beard butter will heal and intensely moisturize your beard while remaining strong enough to shape and hold it in place. Find it on Amazon.
Gladiator Beard Butter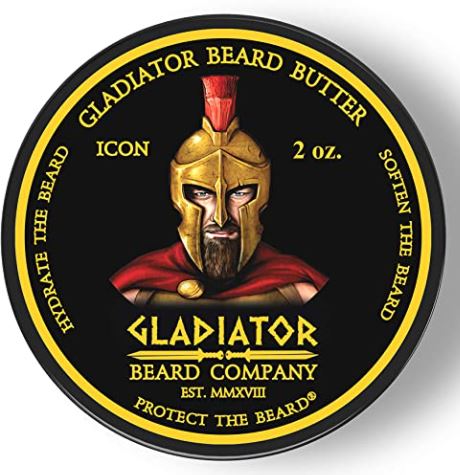 Gladiator Beard Butter contains natural shea butter plus nine carrier oils that are ultra-rich in vitamin E, helping to shield the skin and prevent skin damage. Delivers a death blow to dry, itchy patches in the beard.
It is formulated to moisturize, hydrate and condition your beard, and give it an attractive sheen.
In addition, it has an incredible scent that is warm, rich, complex, and masculine, thanks to the combination of Frankincense and Myrrh, Bergamot, Vanilla, and Patchouli. Find it on Amazon.
Bahawat Beard Butter Mediterranean Citrus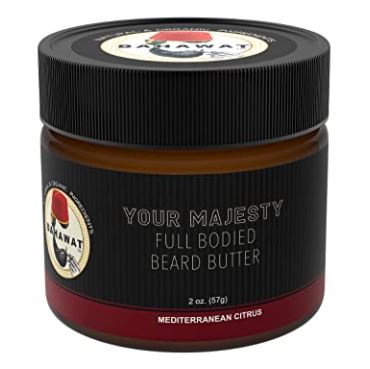 Powered by black seeds, this beard butter stimulates thicker, longer, and stronger beard hair. You can expect deep condition, exceptional hydration, & nourishment for the beard.
It has notes of refreshing citrus that evoke the ocean's churn, wrapping the water, sand, and sun together into a clean and ozonic scent.
Top notes of citrus give way to a heart of ocean mist and a hint of fresh, radiant geranium to create an absolutely divine scent that is musky, clean, spicy, delicate & reminds you of the relaxation of an exquisite high-end resort in the summer days. Find it on Amazon.
Beard Butter Recipe
It is always preferable to have products that use 100% natural ingredients, and though most beard butter brands utilize natural ingredients, what could be the next best thing? How about making your own beard butter at home and knowing exactly whats's in it! Give this beard butter recipe a try!
Ingredients
1/2 ounce of wax
2-3 ounces of butter
3 ounces of carrier oils
A few drops of essential oils
Process
In a vat over low heat, melt the wax, butter, and carrier oils. Careful not to allow it to boil.
Once the mixture has completely melted, remove it from the heat.
Now mix out all the ingredients, and make sure they are perfectly blended.
Store it in a container and allow it to cool until it forms a solid shape.