The beard is an important part of any man's face. It's perhaps the first thing or among the first things that people notice about you, and the kind of beard you have says a lot about you. So having a kept and good-looking beard with the right accessories can really make you stand out. So today, we'll be telling you about types of beard lights for all those attention grabbers.
It's also a major part of your style and grooming routine. The beard can be styled in many different ways, and there are many ways to style a beard. One of those ways includes beard lights. Truth be told, it might sound weird for some; however, once you get initiated in the word of beard lights, most men say without exaggeration that beard lights are the best thing that's ever happened to their beards.
And because every beard needs its own light, there's no harm in knowing the different types of beard lights you can find out there for the beard of your dreams. So, if you've been growing your beard for a while now, it's time to take the next step cause one of the best things about beards is that they've created a whole new type of light: beard lights. Let's check them out.
What are beard lights?
Beard Lights are accessories for your beard. Literally, you can have little lights hanging from your beard. It is the newest way to pimp your beard and take it to the next level.
Beard lights are usually meant to be used during the holidays; however, beard lights are a fun way to bring out your personal style so you can wear them during that special occasion and impress with that wow factor.
If you've never tried them before, we encourage you to do it; once you get those awesome beard lights in, it will be easy to see the appeal.
Cordless beard lights
The best beard lights are usually those that have cordless. The cordless option is convenient because you can place the beard light in any location you want without worrying about a cord getting in the way.
LED beard lights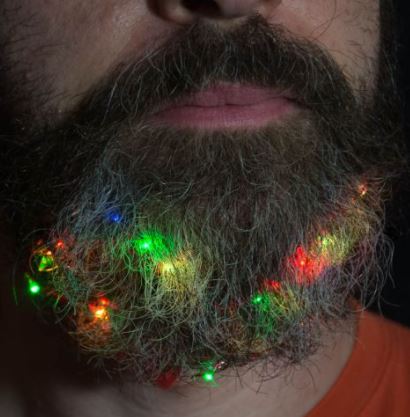 The LED light option is great because it provides a brighter light to give you a better view of your beard.
This usually comes with multicolored nano-LED lights and attachment clips. Each light on the string changes color and flashes, so you'll basically become a walking lamp.
Check out these Beard Lights from MenKind. Designed to thread through your facial fuzz, this awesome string of LEDs clips into your beard with ease. 18 little LEDs sit on this string, and at the push of a small button, they can light up in one of two modes (either flashing red or a random setting that flashes, fades, snaps, and oscillates wildly between different colors and movements), giving your beard the festivity spirit.
Christmas beard lights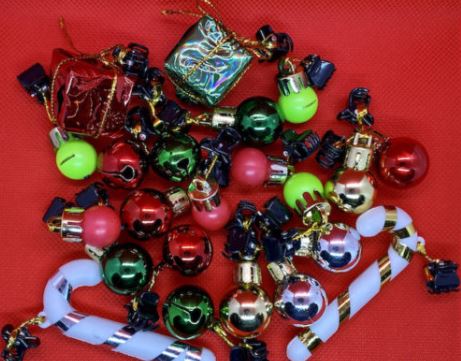 There's perhaps a no better time to use beard lights than during the happiest time of the year. If you like wearing beard light for Christmas, it's pretty obvious that you're the type who likes to spread good cheer. The good news is that you can find a good selection of Christmas beard accessories whether you're looking for jingling bells or lights that would make little kids envious.
Check out this beard ornaments and lights set. 3 Red Lights, 3 Green Lights, 2 Red Baubles, 2 Green Baubles, 2 Silver Baubles, 2 Gold Baubles, 2 Red Bells, 2 Green Bells, 2 Candy Canes, 2 Gift Boxes.
Batteries included. Lights can be turned on and off with the press of a button. Lights are set to blink a solid color (red or green) at random speeds. Shop at Beard Lights.
Multicolored beard lights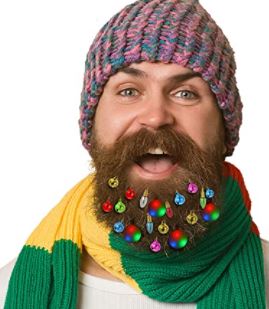 Nothing screams holidays as loud as a beard glowing in multicolored beard lights. If you are going with different color lights on your beard, go all out and throw on some ornaments as well, no man's face is complete without ornaments hanging on their beard.
When we thought things couldn't get more extreme than beard lights, multicolored beard lights were to give that next level. Though most beard lights are sold in different colors, this is always the way to sheer the joy.
Check out these 26 Pieces Light Up Beard Ornaments, 4 Pieces Beard Lights Beard Bauble Ornaments, 12 Pieces Sounding Jingle Bells,10 Pieces Colorful Water Drop Facial Hair Baubles, Christmas New Year Festival Gift -from Amazon. Six colors include red, rose red, gold, silver, green, blue, beautiful, and shinny.
Beard Fairy Lights Ornaments Glitter Kit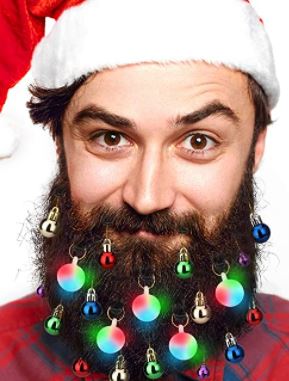 The vibrant colors are visible from afar, and you'll receive enough of them in the package to light up from head to toe. One of the things that stands out about these Christmas beard ornaments is that they are much larger than most other beard baubles available.
These led beard lights last the whole Christmas— they can constantly flash for 2 hours, plus you'll also be provided with 20 extra batteries in the package! Find it on Amazon.
BEARDAMENTS Beard Lights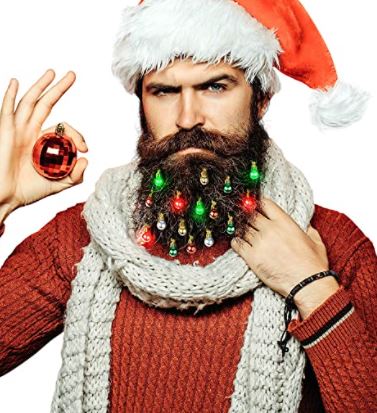 These beard and mustache lights/ornaments are elementary to use; towards the upper end, you'll find that each of these beard lights is designed with a mini-clip. This way, you won't have to worry about a loose grip.
The best part is that you don't have to have a huge beard to wear these beard Christmas lights; they can be worn by anyone with long or short facial hair!
Find BEARDAMENTS Beard Lights – The Original Light Up Beard Ornaments, 16pc Colorful Christmas Facial Hair Baubles for Men, on Amazon.
FAQ
How can you decorate your beard with beard lights?
You can easily groom up your beard for that special occasion with joyful beard lights. Using tug-free, gentle clips, our beard lights and beard decorations nest into your wintertime scruff with ease!
Look for lightweight, comfortable bulbs so you can wear them all day long. You can choose from simple bulbs or flashing lights for a look that won't go unnoticed.
How to wear beard light and decorations safely?
Beard lights and decorations don't need to be a complicated matter. Look for options that are equipped with mini clips. This will enable you to clip them onto your beard without the needed drama. Clip them onto your hair, hat, face, ears, etc.
Where should you wear beard lights?
Alright, so let's face it, as much fun as beard lights are, beard lights aren't a sustainable look for everyday use. That said, there are lots of places and events that you can wear and flaunt your beard lights at. For instance:
Secret Santa party: Go all in at your upcoming Secret Santa party and let everyone know how much you love beard lights.
Holiday office party: Become the life of the party by rocking colorful beard lights.
Christmas shopping and Christmas photos: Spread the joy while taking care of your gift list and making great memories with your Christmas photos.
Club/Bar party: Be the talk of the town when you show up for cocktails sporting beard lights.
Who can wear beard lights?
Anyone that can grow a beard can wear beard lights. That said, men don't really need to have a crazy long beard to wear beard lights; a few inches will do the trick.