Are you a bearded fella who is still having an itchy beard and flaky skin? Even after trying out every beard balm and beard oil? Your soap may be to blame. When you are trying to grow a thick and strong beard, you will experience some degree of discomfort along the way. This is why today we'll be telling you about different beard soaps.
All bearded men that have proudly grown out their facial hair learn, sometimes the hard way, that having a cool-looking beard requires some degree of work and effort. If you want to keep your beard looking and feeling it is very best, you must create a grooming routine to ensure that your facial hair is healthy and clean. And to keep your beard fresh and clean, you will have to find the best possible beard soap out there.
The fact is that your facial hair will get dirty with pollutants, grease, and bacteria, which all result in all kinds of beard issues like itchiness, dandruff, acne, or irritation. So you absolutely need to be using a top-rated beard soap. Now that we've made it absolutely clear that your beard care routine should always include a good beard soap, it is time to pick the best possible option for your beard needs.
Beard Soap
Beard soap can come in liquid or solid, but most popular beard soaps look like your standard bar of soap. Like the one, you'd use to wash your face and body.
This product should create a decent lather to make you feel like each facial hair is thoroughly cleaned of dirt and grime.
Who should use beard soap?
It depends on the type of facial hair you have; while some men prefer to use beard shampoo, others like beard soap better. While they both effectively clean your beard, beard soaps are more suited for men with shorter beards, while beard shampoos are better for men with long beards.
If you have thick, coarse or curly hair, you will require more moisture; it may be best for men with this hair type to opt for a soap.
Beard Soap
Dr. Squatch Pine Tar Soap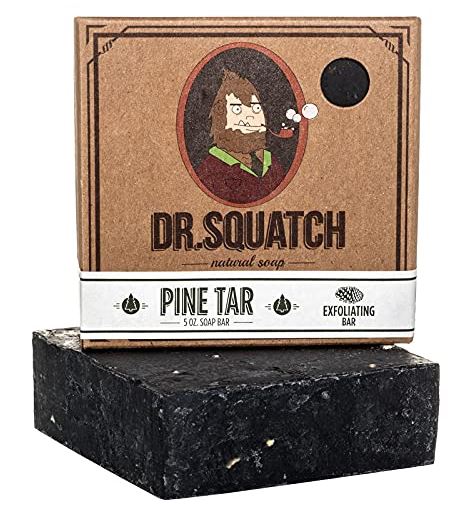 Dr. Squatch provides natural, healthy products that make you feel like a man and smell like a champion. All of their soaps and products are made using the finest ingredients nature has to offer.
With 9 manly scents that produce an intoxicating, thick, foamy lather, Dr. Squatch soaps are an experience. Every Dr. Squatch soap bar is handmade using the cold process method to give your body what it loves and deserves without compromise.
Every bar of handcrafted Dr. Squatch soap cleans your skin with heavy sand exfoliation and a pure pine scent. Find it on Amazon.
Maple Hill Naturals Soap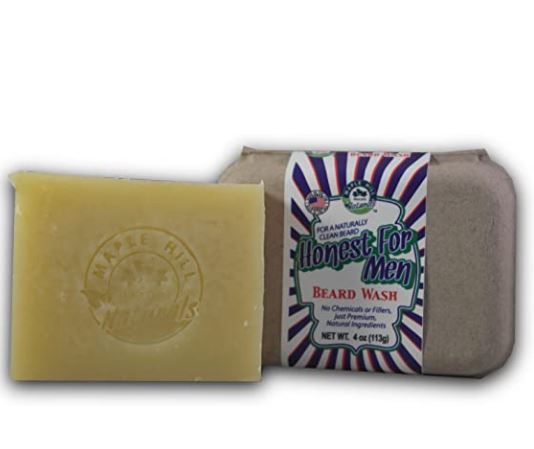 This beard soap is made from 100% natural ingredients giving your beard exactly what it wants and needs to be at its best. It leaves your beard healthy, flake-free, great-looking, and smelling amazing.
It is a sophisticated blend of 100% natural essential oils, delivering a world-class fragrance you will enjoy all day. This soap will not strip the natural oils from your beard while softening and conditioning it naturally.
This is no Animal Testing, Sulphate Free, Phthalate Free, Paraben Free, Petroleum Free. Find it on Amazon.
Honest Amish Beard & Body Soap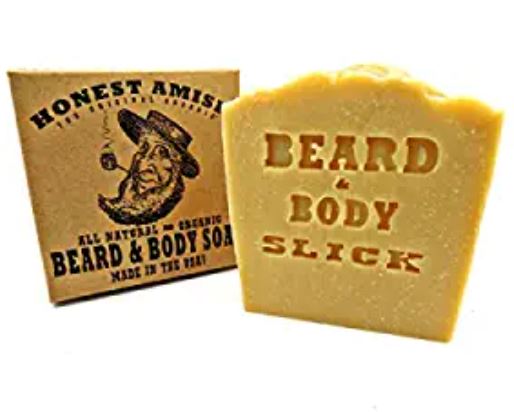 Honest Amish Slick Beard And Body Soap were specifically designed to be a mild face/beard cleanser.
It contains only natural ingredients with eucalyptus, cinnamon, and clove essential oils. Has french yellow clay for a mild pull to help cleanse your beard, but not harshly like shampoo or store-bought soap.
Its mild non drying formula is perfectly suited for face and beard. Find it on Amazon.
Bossman Men's Bar Soap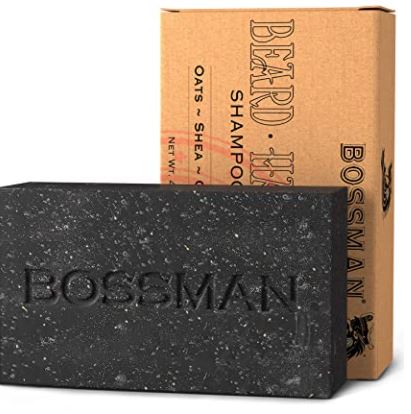 This soap offers to moisturize your beard, hair, and skin with organic oils. It is a 4 in 1 bar soap for men infused with a masterful blend of organic moisturizing oils like coconut oil, shea butter, and palm oil.
The organic oils in our men's soap will clean, nourish, and strengthen your hair and skin. It also works great as shaving soap.
This soap doesn't contain harsh foaming agents that dry out hair and skin while robbing your body of its natural oils. Its ingredients will clean, moisturize, and protect natural oils so you can look and feel like the Boss you are. Find it on Amazon.
Tame the Wild Orange Walnut Beard Soap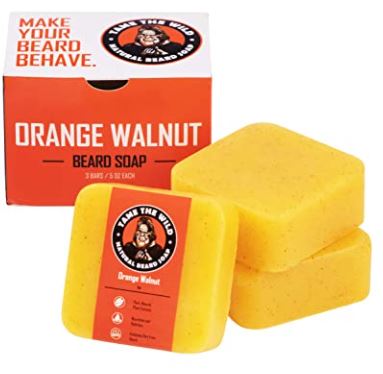 This is a great smelling natural soap, it will clean and refresh, but the not overpowering orange citrus scent will neutralize odors and make your beard smell amazing.
This soap helps get rid of dry patches and beard dandruff. Shea butter and coconut oil and will help moisturize and hydrate your beard and the skin underneath it.
The strong lather and walnut granules in this men's soap clear the pores of dirt, oil, and dead skin, increasing blood circulation and beard growth. Your face and body will feel clean after using this beard soap. Find it on Amazon.
BOGUE Goat Milk Soap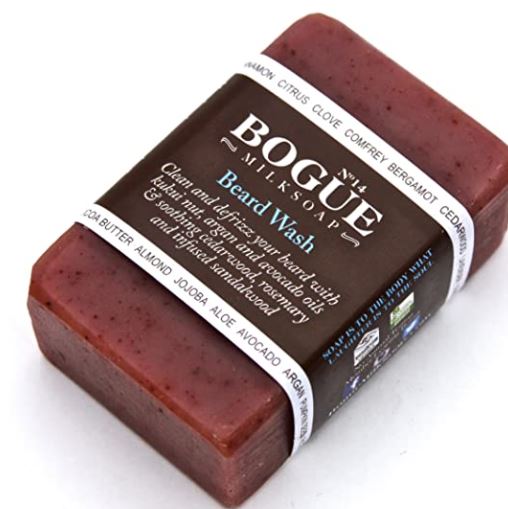 This is an artisanal soap handmade with all-natural ingredients that contain locally farmed fresh raw Goat Milk and Organic Essential Oils.
Ingredients include cedarwood, rosemary, rose geranium pure essential oils. Organic kukui nut, avocado, and argan in coconut, palm, olive, jojoba, pumpkinseed, & rice bran vegetable oils. Sandalwood infused sunflower oil.
It is rich in nourishing Vitamins A, E, B6, B12, and hydrating proteins, reducing wrinkles and brightening the skin. Find it on Amazon.
Baroque Royal All Natural Beard Soap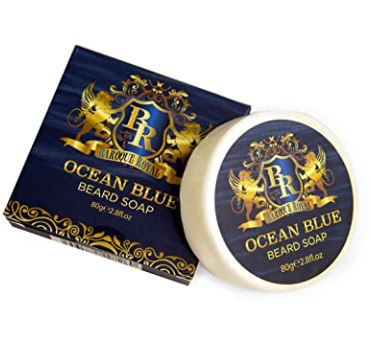 Baroque Royal beard soap cleans out oil residue and dirt while replacing natural oils with beard softener and conditioner. The result? A healthy-looking beard with a compliment-sparking sheen.
This special beard soap moisturizes and soothes the skin under your beard to reduce flakes and irritation.
It has a subtle and refreshing and unique scent that leaves you feeling invigorated and netting compliments throughout the day. Find it on Amazon.
Viking Revolution Activated Charcoal Soap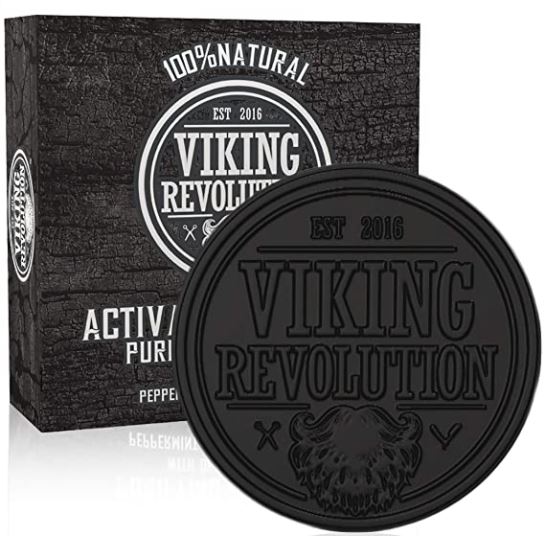 This is a gentle and effective beard soap; this activated charcoal soap bar is suitable for facial skin care as well as cleansing your whole body.
It cleans your pores, helping to reduce both blackheads and whiteheads; this cleanser bar keeps pores squeaky clean without tightening and drying out facial skin.
Made with the clean scent of eucalyptus and peppermint, the activated charcoal creates a great lather too. Find it on Amazon.
The Official Brand, Norman's Beard Lab, Grey Reduction Soap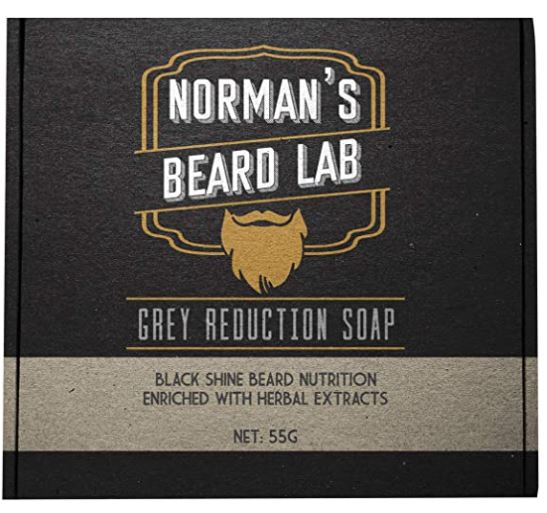 Norman's Beard soap is 100% natural and has been scientifically designed to keep your beard health in mind from the ground up.
Thanks to our carefully selected active ingredients, this organic soap won't just prevent follicle damage but also strengthen them by providing nourishment that makes your beard and mustache healthier by giving it a smooth, shiny appearance starting with the root.
Older fellas will love this soap since it helps reduce grey hairs, strengthens follicles, and improves Beard Growth with its 100% Natural Formula. Find it on Amazon.
Taconic Shave Beard Shampoo Bar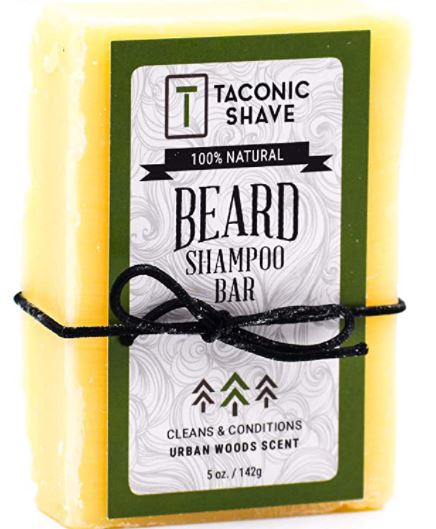 Taconic Shave's beard bars are handcrafted with 100% natural and organic ingredients to clean, soften and condition your beard and skin.
The foamy lather with our subtle urban woods scent will leave your beard smooth, fresh, and frizz-free.
Safflower & coconut oil have moisturizing qualities, which will condition and soften your beard. Castor oil contains triglyceride fatty acids that provide long-lasting hydration and nutrition. Use this bar as a multi-tasker to wash your hair, face, and body! Find it on Amazon.