Are you a bearded fella who has been genetically blessed with curly hair? Then the chances are that you've heard of beard relaxers before since it is a fact that most likely you'll be needing one in your beard care routine arsenal of products. This is why today we'll be telling you about different beard relaxers.
While some men stop growing their beards as their beard begins to take a curly shape, some others, and we may add, the bravest bunch, decide to go all out. It is actually not the end of the world if you have a curly-haired beard, the most man that decides to stop growing their curly beards is probably because they don't know about beard relaxers. These are specifically designed to get your desired look and get you the beard of your dreams.
Think about it this way, if beard caring routines already require maintenance, what's the harm in adding another product, right! If you want to keep your beard looking and feeling its very best, you must create a grooming routine that includes a beard relaxer so it can take your beard to the next level.
Now that we've made it absolutely clear that your beard care routine may be benefited from the use of a beard relaxer, it is time to pick the best possible option for your beard needs.
What is a beard relaxer?
A good hair relaxer for men who have to fight curly hairs is priceless. Beard relaxers, also known as texturizers, work to target your hair at the follicles and keep your locks in order. It will straighten up beard curls by breaking down the keratin bonds inside your facial hair.
They can add on length to your hair, making it seem closer to what it looks like fresh out of the shower.
Most men avoid beard relaxers because these are associated with damage. Using a beard relaxing cream could result in some beard damage, the reason why it is important to look for chemical-free options.
Who Should Use a Beard Relaxer?
Curly hair owners know the struggle to manage the curls surrounding your mouth and chin is real. However, a curly beard is no need to give up.
A beard relaxer is then suitable for curly beards that need untangling those curls; this product can give them the appearance of heightened growth.
To make your beard straight, you could choose different methods such as a beard straightener, your old and trusted blow-dryer, and a comb and beard relaxing creams.
Beard Relaxers
Choosing a beard relaxer can take some research since most relaxers target the hair on your head, and these may contain ingredients that are not suitable for your facial hair. Check out some of the best relaxers specifically made for beards.
Balm Bossman Relaxing Beard Balm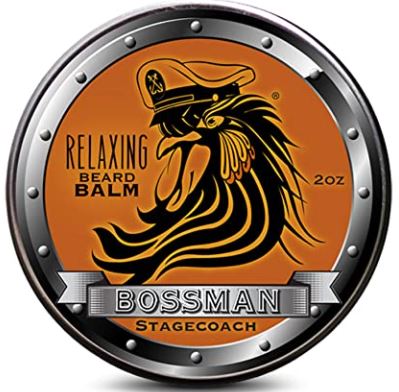 Bossman Relaxing Beard Balm contains natural ingredients such as Mango, Shea Butter, and other oils that trap moisture into the hair follicles and pores to facilitate growth for a thicker, more mature beard.
This beard balm helps to relax your beard, making it more manageable, taming the "fly-aways" to promote a strong, sleek look. It feels like beard butter or beard cream as it glides gently through your hair follicles.
The carefully chosen minerals and oils act as a beard conditioner and beard softener to keep your hair follicles and pores from drying out, which gives your beard that lovable, silky smooth feel. Find it on Amazon.
Wahl, Beard Creme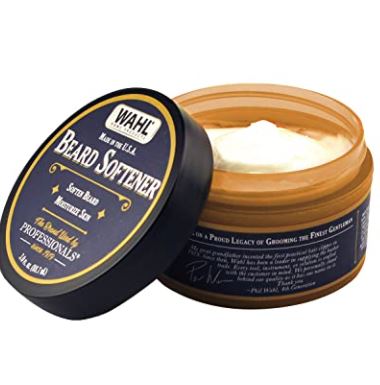 This beard softener keeps your beard healthy, soft, and well-conditioned and is great for any length beard from stubble to long, thick beards.
It is made with a paraben and phthalate-free formula, which contains the highest quality Sativa seed, jojoba, meadowfoam seed, olive, clove, and moringa, plus many other carefully selected oils chosen to relieve itchiness & dryness, leaving your beard looking healthy & smelling manly.
The Wahl Blend uses manuka oil similar to tea tree without the estrogen risk, meadowfoam seed oil to help smooth and soften the skin and hair, clove oil for anti-itch properties, and moringa oil for anti-inflammatory properties. Find it on Amazon.
Revlon Professional Relaxer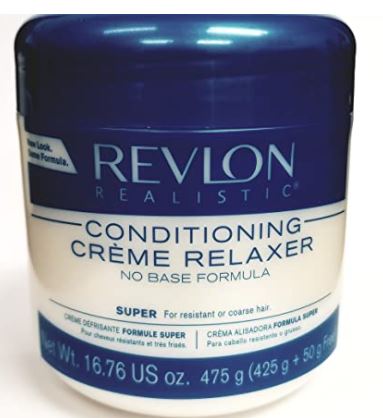 Revlon's professional relaxer may not be designed for beards; however, it works just great. Its conditioning cream gets an upgrade and is specially designed for coarse hair.
It is an excellent intermediate-level beard relaxer, as it does include a multitude of chemicals, wrecking its safety, but it doesn't have the most precarious options.
Ingredients include water, petrolatum, paraffinum, liquidum (mineral oil), pulp extract, macadamia intergrifolia seed oil, geraniol. Find it on Amazon.
Billy Jealousy Beard Control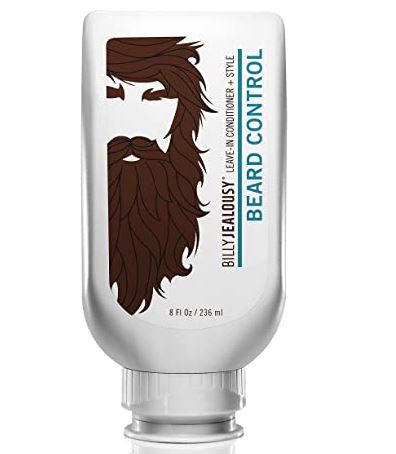 This Men's Beard Control delivers a deliciously light hold while giving you the best of both worlds: a natural look with just a hint of definition.
Aloe leaf juice and panthenol condition and protect without weighing hair down. PVP helps hold the hair in place while jojoba seed oil conditions and shines—woodsy and fresh fragrance with lavender, tropical fruit, sandalwood, and oakmoss notes.
It is formulated to soften naughty curls, control crazy scruff, and subtly style and settle flyaways. Use Beard Control as a leave-in styling conditioner. To use work a small amount into palms and rub hands together. Apply to beard; style and smooth as desired. Find it on Amazon.
Shea Moisture Men's Full Beard Detangler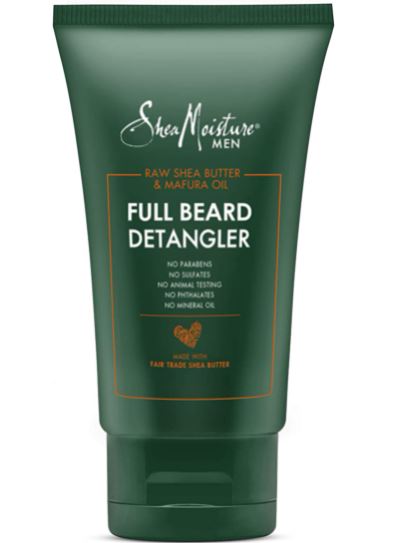 This moisturizing beard detangler evens out the complexion and makes it glossy and healthy. Made with Maracuja oil and Shea Butter, promote cell growth and rejuvenate skin for a healthier complexion.
With SheaMoisture Men's Beard Detangler, you can expect detangled hair that is easy to run your fingers through. Say goodbye to rough beard, knotted hair, dry and dull skin with this all-nourishing formula.
Plus, it is nongreasy, detangles easily, and does not leave any residue behind or feels heavy on the skin. Find it on Amazon.
Prophet Premium Beard Balm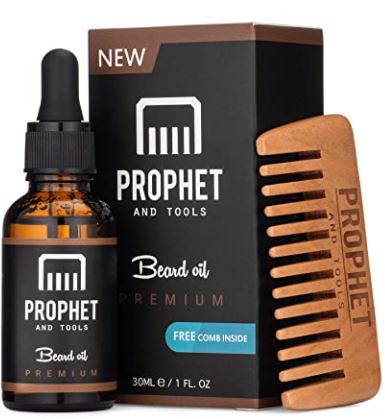 This is a light beard relaxing choice for those needing a quick boost for your troubled hairs. This beard relaxer for men wants to give your beard the help it needs while keeping everything in style.
It has a thick blend of different oils and kinds of butter that will help it accomplish the well-relaxed beard of your dreams.
It contains Shea Butter, Beeswax, Oils: Jojoba Golden, Argan, Sweet Almond, Apricot, Castor, Vitamin E, Emu, Tamanu. Find it on Amazon.
Beard Straightener w/Beard Balm & Beard Growth Oil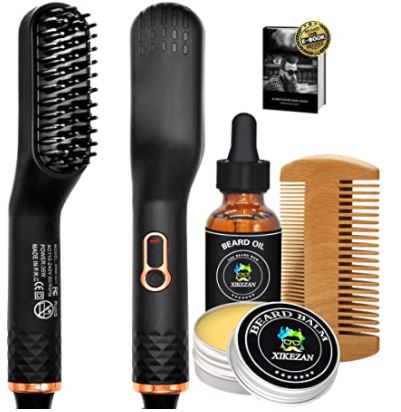 If you like gadgets, this kit straightening kit is for you. Ionic Beard Straightening Brush comes with Beard Balm, Beard Growth Oil, and Beard Wood Comb, which moisturizes, softens and grooming beard and hair.
The beard wood comb massages facial hair stimulates oil production & removes dirt. The PTC Heater Technology offers the fastest and stable heat distribution up to 428℉(220°C) in 2 minutes if that is not enough.
The ionic 3 in 1 men's beard straightener offers 3 heat settings from 356℉ to 428°F, which is suitable for most beard or hair types: soft, thin, thick, or curly. Find it on Amazon.
Tips To Use a Beard Relaxer
Beard relaxers are crafted to strengthen the beard while making it grow active and healthier.
The first step of using beard relaxer cream is washing the beard.
It would be best to use removable gloves to divide your hair into small sections and apply the cream gently to each segment.
By using a beard comb, spread the cream across your beard, and after half an hour, rinse the beard relaxer out. Some relaxers do not need to be rinsed out.
The straightening iron should be used after the beard is dry to remove the curls and make your beard straight.