Every man with a beard knows that they need to have a different toolbox around other than keeping screws and a hammer. We are talking about tools for proper beard upkeep, and among them, we find the essential beard comb. So today, we'll be covering different types of beard combs and where you can find them.
For all the bearded gents out there, beard care it's a must; it's a lifestyle for the manly man inside of you. When it comes to beard grooming, you need to put in some effort. You can't just grow your beard, forget about it and then expect it to look perfectly out of magic. Every dude with the beard of your dreams has done the homework, has had to determine which products work and the ones that don't.
If you've already decided to walk down the path of the brave, the path of the true bearded men, then you must have a trusted and reliable beard comb so that you can achieve your desired beard goals. Beard combs have a place in the life of every bearded fella that is looking to get all the beard compliments possible and frankly to make all the heads turn.
So now that you know that beard combs are a vital tool for the men striving to keep their facial hair well-groomed, it is time to know which one is right for you.
Difference between beard comb and beard brush?
The truth is, you might as well have both because it is not about which one is better; it is about how to use both so you can obtain the best beard result possible. They actually complement each other since they are employed for different purposes.
Your beard comb should be a compliment to your beard brush. You want to use a beard brush to exfoliate your beard and get rid of dead skin and distribute natural oils or products across and through the entire length of the beard. Brushing your beard every day is recommended as it keeps your beard moisturized.
You want to use your beard comb when it's time to be out the door, when you want to dress to impress, in other words, when you want to stylize your beard in a certain way. Using a beard comb, you will control the shape of your beard and make it look how you want it.
Who should use a beard comb?
A beard com is recommended for all bearded fellas; however, among the benefits of beard combs, we find that these also help detangle hairs, especially as they get longer. This makes a comb a must-have for longer beards that generally require more effort to shape and smooth.
Another good thing about combs is that beard combs are portable, so you can easily carry them around, making sure your beard stays pretty throughout the day.
Types of beard combs?
Beard combs are either made of wood, plastic, or metal. Pros often recommend wood ones as they say they are gentler on long facial hair that may pull and snag easily. Wood beard combs can help distribute products more easily as well. However, they can be heavy, and here is where their plastic counterparts come in. If you have a short beard and if what you want is something more portable, then a plastic beard comb is your friend.
Beard combs can also be a wide tooth or fie tooth. You will have to pick one according to your hair type and beard length. For instance, wide-tooth combs are generally recommended for thicker, coarser beards; fine-tooth combs are better for thinner patches.
Plastic and metal combs produce static, which makes taming your beard more difficult.
Custom beard combs?
There is also such a thing as getting your beard comb personalized or custom-made. Imagine a beard comb with your name engraved on it for a cool gift idea. Perfect for that groomsman, husband, or special bearded guy in your life.
You can actually customize it not only with your name but with whatever phrase or logo you like. A custom beard comb is available in various colors and designs suitable for consumers with different tastes and preferences.
Beard combs
The Art of Shaving Beard Comb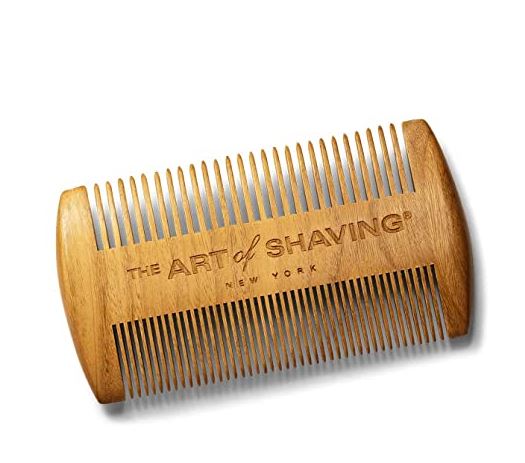 The Art of Shaving Sandalwood Beard Comb is a quality-made natural wood comb. It is a great addition to any shaving and grooming regimen. Featuring two comb widths to perfect and define your beard style.
The two comb widths make it the perfect wide-tooth for curly or wavy hair, fine-tooth for straighter hair types. It is made from Argentinian Green Sandalwood.
To use style beard hair using wide-tooth for curly or wavy hair, fine-tooth for straighter hair types. Find it on Amazon.
NATURE BOY Wooden Beard Comb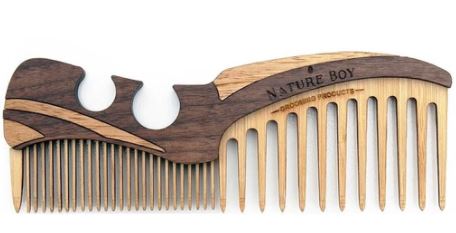 A uniquely crafted grooming tool co-designed by Nature Boy & Carbon-AR. This comb is multi-functional with long wide teeth for de-tangling longer coarse beards and fine teeth for shorter beards.
The teeth are made of natural bamboo for lasting durability, and the handle is made with the fine woods of Black Walnut and African Kiaat.
It does a great job getting your kinks out of your beard and will not pull like the plastic comb sometimes does. Find it at Nature Boy Products.
Kent Beard Comb Set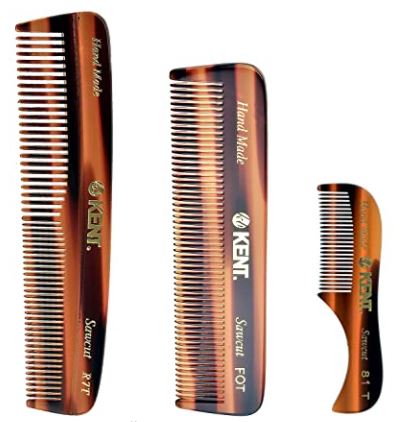 Get 3 of the bestselling Kent Men's Handmade Combs: 81T, FOT, and R7T. The 81T: 73mm fine-toothed mustache and beard comb. This specialist comb is perfect for grooming, maintaining, and trimming facial hair. FOT: 113mm fine toothed men's pocket comb R7T: 143mm fine and coarse toothed pocket comb.
Every Kent comb undergoes the traditional craft of shaping and cutting from solid blank tortoiseshell effect material. Each tooth is cut by special circular saws, profiled, beveled and hand-polished on pumice wheels to ensure perfect hair penetration without scratching the scalp.
Another unique feature is that the inside edge of each tooth is left with the rough saw-cut impression, which, when the hair is drawn through the teeth, cleans the hair of dust and encourages the release of natural hair oils. Find it on Amazon.
Parker's Premium Rosewood Wide Tooth Beard Comb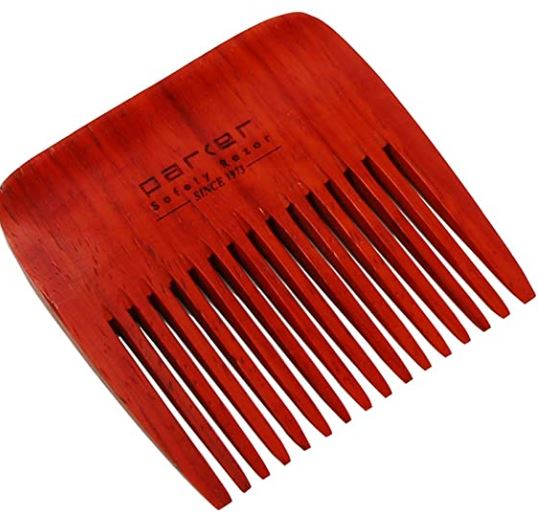 Handcrafted with 100% solid North Indian Rosewood for a durable, smooth finish and packaged in a reusable jute storage pouch.
The smooth wooden teeth are anti-static and will smooth the roughest tangles in your beard without creating frizziness, as typical plastic combs often do. No scratchiness or snagging of the hair so that you can expect just smooth, healthier, and shinier beard hair.
It helps to disperse beard oil/balm throughout the beard evenly and has that wide tooth design to get through the longest beards. Find it on Amazon.
Comb by Beardbrand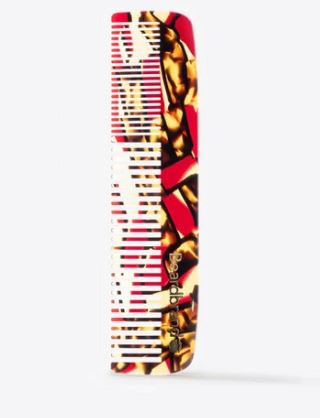 Beardbrand Beard Combs are hand-cut from Italian cellulose acetate, a plant-based, rubber-like material that doesn't produce static, is durable, and won't snag your hairs. In other words, you can say goodbye to your beard tangles.
These beauties comb through straight, curly, and wavy beards like a hot knife through butter. These combs also feature unique designs and color patterns.
To use it, start by holding the comb with the teeth facing up and comb your beard outwards with the wider teeth, starting from the neckline and working out towards the chin. Start an inch or two from the end of the hair and work down to the root. Eventually, work your way further up the jawline and cheeks.
Get it on Beardbrand.