If you are looking for beard extension, chances are you may trouble growing your beard, and there's no need to be ashamed. There's also the possibility you are just curious about how real beard extensions are, or you might also be on the market for a beard extension for your next stage apparition. Either way, today, we'll be focusing on types of beard extensions.
So don't worry, you don't need to worry about looking like an extra from Lord of the Rings. Beard extensions are actually a thing, and they're a great way to make your full beard dreams come true. If you're a bearded man and you've been thinking about getting them, but you're not sure, you're not alone.
Now, beard extensions may not be for everyone, but these sure can be a lot of fun. But before you spend your hard-earned money, there are a few things you should know first. Hair extensions are not just for women anymore. If you're on the quest for a glossy, luscious beard, hair extensions could help.
So what are beard extensions anyway?
Beard extensions is a beard care product; forget about beard combs, beard oils, beard wash, beard brushes. Beard extensions help you add instant inches to your beard, making it go from corporate beard to badass beard in seconds. It is quite magical.
It's also important to keep in mind that beard extensions, that extra set of hair attached to your beard, are meant to add length, not volume.
Beard Extensions
There are two main types of beard extension or beard enhancers :
1) Beard Weft Extensions: This is the most common type of beard extension. It's made of a long strip of material with hair sewn or glued to it.
2) Beard Cluster Extensions: This type of beard extension is made up of many pieces of hair that are just a few inches long.
Now you are probably wondering what is the difference is between these two types of beard extensions.
Well, beard weft extensions are easier to apply, and they're more versatile. They can be styled in different ways, just as you would your real beard.
Check out some beard extension options you can find online for your beard extension needs:
Beardbrand beard extensions
Time for you bearded fella to elevate your game with some authentic beard weave. This stuff is made out of real human hair, and it comes in 6 colors to match your beard.
It comes with easy Clippy technology to attach to your beard and give you the instant growth you've been looking for.
Beardbrand products typically center around the more normal beard oils, and grooming kits came up with their beard extensions called the "Yeard-EZ." Find it on Beardbrand.
Beard and Mustache Combination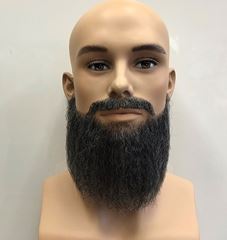 This Beard and Mustache Combination is indistinguishable from a real, naturally growing beard when fitted correctly using professional beard adhesive. If you want to disappear into a crowd and not be recognized by your friends and family, then this beard will be of great help.
It is made up of human and synthetic hair combinations. The dark color beards and mustaches are made from human hair, and the light colors are made from synthetic hair. Shop at Hairaisersshop.
Don Quixote Beard and Mustache Set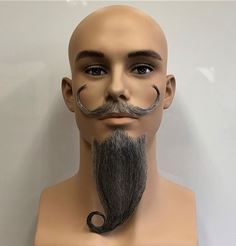 Don Quixote Beard and Mustache Combination is hand-made for professional theatrical use on stage and screen. Yet, the price and ease of use allow them to be used for many private occasions, such as impressing your friends at fancy dress parties.
This remains comfortable for hours and hours due to the combination of the Swiss lace base and skin-tone spirit gum adhesive, which work together with your skin to hold the beard firmly and flexibly in place.
The set is made with genuine, healthy human hair. Each strand of hair is hand-tied on to fine Swiss Lace, and the beard is indistinguishable from a real, naturally growing Beard when fitted correctly. Shop at Hairaisersshop.
Confucius Beard and Mustache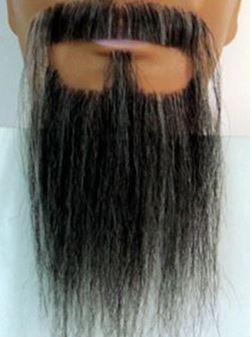 This is for the guys who want a long beard; dependent upon the size of your face, you may need to trim your beard, so hold it in place to measure and then trim with sharp scissors if you need to.
Once you are happy with the shape and size of your beard, use a sponge to dab Spirit Gum to your upper lip, allow the spirit gum to dry until it becomes sticky and tacky to the touch, and then apply the beard and gently pat it with your fingers.
Try not to move, talk or laugh for about 60 seconds and then you are ready to go. Shop at Hairaisersshop.
Full Beard Short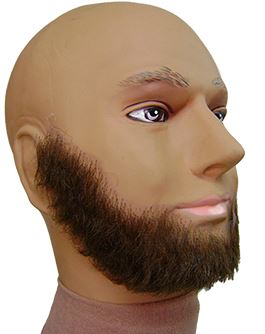 For those who have no beard at all, or are perhaps in the first stages of growing a beard but want to instantly have one, then this full short beard is your answer.
It is made with genuine, healthy human hair and it can be cut using sharp scissors to change their appearance if needed. Shop at Hairaisersshop.
Full Chin Beard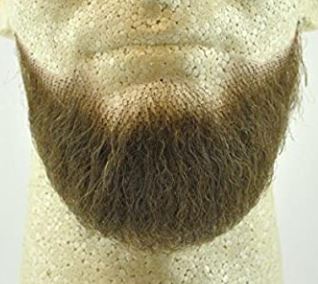 This 3-point beard is larger than a goatee but not as large as a full beard. This beard can be trimmed to fit any size and style you want. It is hand-tied on sheer lace, and the lace is pleated to fit around a chin.
To Apply: Clean the skin from oils with either soap and water, alcohol, or astringent. Brush on a thin layer of professional Spirit Gum adhesive. Allow the Spirit Gum to get tacky, about 20-30 seconds. Press the hairpiece onto the adhesive, and the lacing side should face the skin. Hold in place for a few seconds until well bonded.
Find this Full Chin Beard MEDIUM BROWN on Amazon. It is 100% Human Hair; it comes with the spirit gum included and is realistic and reusable.
FAQ
What are beard extensions made of?
-Fibers: These are the most popular beard hair extensions. They are made of high-quality hair that is fused to your hair follicles using a gentle adhesive.
-Temporary: These beard hair extensions are made of synthetic hair that is attached to your beard.
Who can wear a beard extension?
Anyone! Beard extensions don't discriminate.
If you've got a little patch of stubborn hair on your face that won't grow, it might be time to think about beard extensions.
Or you might want to try it for fun! That's also a valid reason to wear one.
How to attach a beard extension?
The beard extensions can be weaved, clipped, braided, or bonded to create the desired hairstyle. Most beard extensions have simple installation instructions, so both experienced and amateur stylists can fit them. They are friendly to your natural hair, so they won't cause any damage once they're removed.