Whether you're trying to tame facial hair for the first time or a seasoned, seasoned pro, it's important to achieve the beard of your dreams and have the right tools to make it happen. That's why we'll be telling you all about some of the best beard wax products and how big of an impact it makes on your beard.
When you're looking for a good beard wax, you want to make sure it's made of quality ingredients and that it'll keep your beard looking its best, shiny, and healthy. But with so many options, it can be exhausting to look for the best, so we're here to make it easier for you to choose from some of the best-rated beard wax products out there.
From beard oil, beard balm, beard butter, and more, many products on the market are designed to make your beard soft, conditioned, and manageable. There are a lot of things to consider when it comes to facial hair care. Whether you're new to beard styling or an old pro, it helps to have a handy guide for all of the best beard wax products.
Check out our top ten picks of the best beard wax products below.
What is beard wax?
Beard wax is crafted to shape your beard. While it may have some moisturizing properties like balm does, its main target is to help you style your facial hair. It eliminates frizz and flyaways, making every rebel hair go in place to make your beard look tidy all day long.
Beard wax and beard balm are often mixed up, and though both have much of the same ingredients, the difference relies on the wax content, which makes your hair go where you want it. So if you are looking for a stronger hold, wax is what you want.
Who should use beard wax?
Since it's clear that balm gives you a bit of hold for shaping, but not a ton; it is suitable for men with fine or frizz-free hair because they usually don't need wax as they can style their beards with beard balms, which also contain a small number of shapers.
However, those with an unruly, coarse, and wild beard should be using beard wax; that will be your safest bet to make your beard presentable and not mugshot-worthy.
What to look for in beard wax?
Scent. The scent of your beard wax will vary depending on its ingredients. Since the wax sits right under your nose, you want to be able to deal with the smell. For the sensitive, there are also fragrance-free products.
Ingredients. Always look for 100% natural ingredients; this will always be the best choice. Keep in mind the strongest ones may contain petroleum jelly, which can cause allergic reactions. So if you have sensitive skin, look for natural products.
Hold. This will depend solely on your beard hair type. If you have a coarse beard, you need to opt for extra strong hold waxes.
Texture. Waxes are typically super thick. Some are so thick, and it isn't easy to dig them out. Make sure you understand how to use it first.
Tips for using beard wax
Be mindful not to overuse the wax. The beard wax takes some time to solidify and take hold. So if it seems as if the wax isn't working, don't rush to add more; instead, wait a few minutes.
Instead of dipping it inside, what you want to do is scrape the surface. This will help you get just the amount you need.
Before you apply it, it is key to rub the wax between your fingers to warm it up.
Distribute the wax on your beard by using a comb or a brush.
Remember to remove the wax at the end of the day by washing your beard.
If you applied too much wax, you could use a paper towel to remove the excess.
Always apply beard wax to a clean and completely dry beard.
10 Best Beard Wax Products
Bearded Goons Beard and Mustache Wax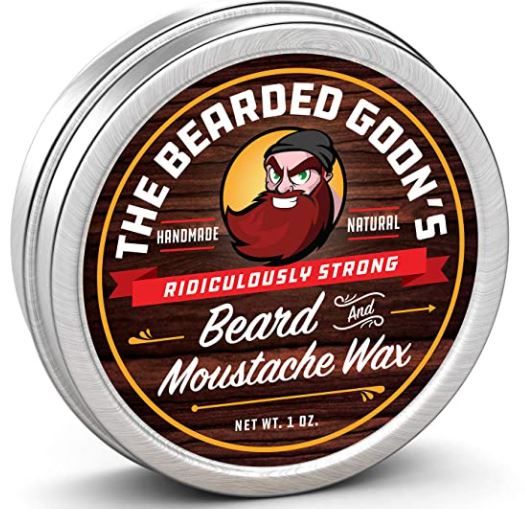 If you want to get rid of your unruly beard hair, check out this Beard and Mustache Wax from The Bearded Goon. This beard wax product offers a ridiculously strong hold so your beard will be kept in one tidy place no matter what.
It doesn't welcome stickiness or clumpiness because it keeps your beard in a smooth hold. It is comprised of all-natural ingredients and comes in a 1 oz tin can. It is also animal cruelty free.
The Bearded Goon has a very mild, light earthy scent from the natural oils and beeswax that is barely noticeable, so it's ideal for the discerning gentleman who wants to look dapper and stylish. Find it on Amazon.
Sudden Death Mustache & Beard Wax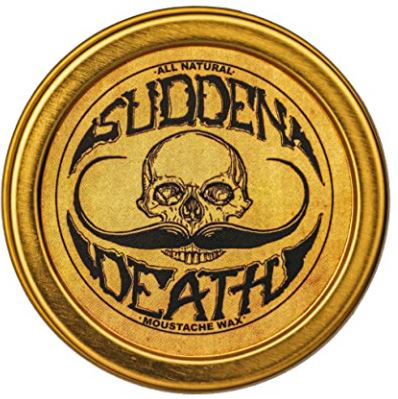 Sudden Death mustache wax's strong, firm grip has helped men maintain their stylin' stash at water parks, sweltering temperatures, white water rafting & more.
It holds those unruly mustache whiskers in place for 8 plus hours all day, even in hot, humid, cold, or windy weather; this is considered by many much better than oil or balm.
Among its benefits are the four-month longevity and no need to heat-press the facial hair and is also made out of natural ingredients: beeswax, lanolin & pine rosin. Find it on Amazon.
Prophet Best Beard and Mustache Wax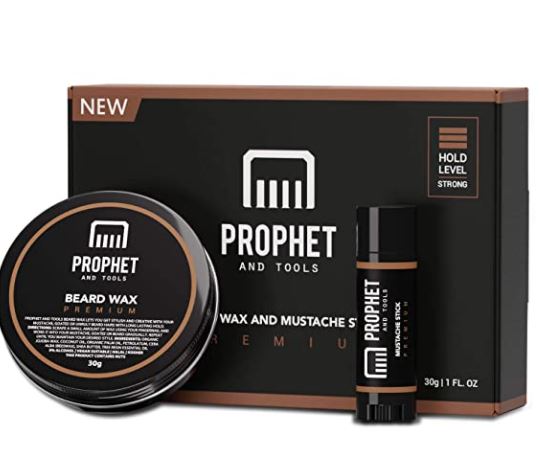 This Prophet kit is also made from natural ingredients, and it comes with everything you possibly need to make your beard look its best.
They have all the tools ready, like one of the best beard wax products and a superb mustache stick that's capable of holding facial hair for 24 hours. This mustache wax and beard wax locks in sharp or gritty styles all day, WITHOUT any reapplication needed!
They use a powerful combination of Jojoba, Palm Oil, Coconut Oil & Shea Butter that gently infuses your follicles and naturally softens your hair. So it is not mucky or greasy. Find it on Amazon.
Scruffy Jack's Premium Beard Balm/Wax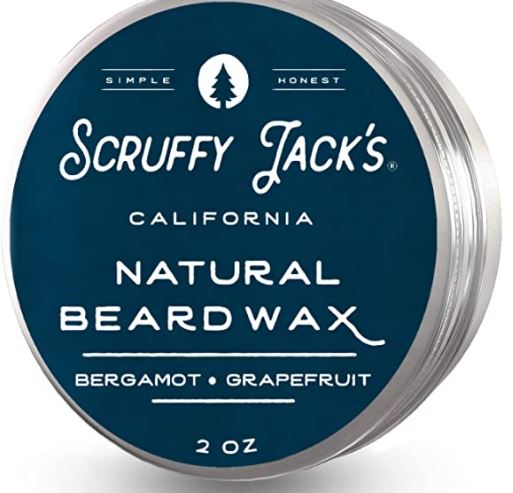 This stuff moisturizes and stimulates beard growth by feeding your beard and skin with the proper nourishment.
This wax helps prevent dryness, which helps reduce beard hair breakage and split ends. It also helps to tame your beard while achieving a fuller beard effect! What's not to love about that!
With this wax, you'll have the light styling control you want without weighing down or leaving your beard feeling greasy or oily. Find it on Amazon.
Detroit Grooming Co. Beard Wax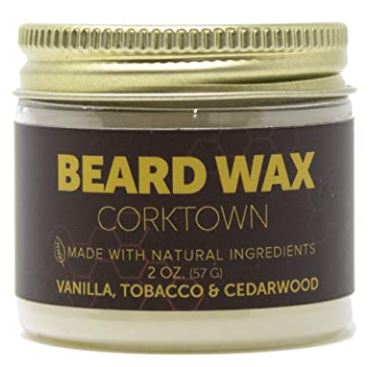 People with all different hair types will appreciate this wax for their beard styling needs. Detroit Grooming Co. uses all-natural plant-based waxes.
Their premium wax is made with Vanilla, Tobacco, and Cedarwood for an aromatic experience.
Your beard, mustache, and even nose hairs will thank you for using this delightfully scented wax! Find it on Amazon.
Badass Beard Care Beard Wax for Men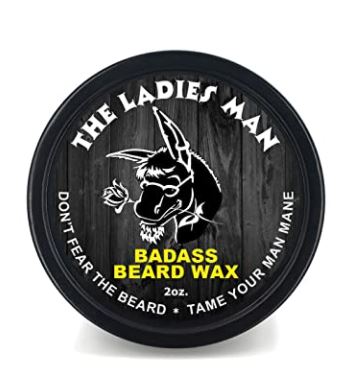 The Badass Beard Wax is among the best-rated choices for men to style and shape their beards. Not only does it work wonders on your beard, but it is also made only with natural ingredients!
This scent offers to have natural aphrodisiacs, which may help attract the ladies. Worth giving it a try, huh!
Ingredients include Shea butter, cocoa butter, beeswax, coconut oil, Apricot oil, argan oil, jojoba oil, pure vitamin E oil, rosemary oil, eucalyptus oil, and tea tree oil. Additional essential oils are used for scent. Find it on Amazon.
Original Beard Wax by Bluegrass Hive & Honey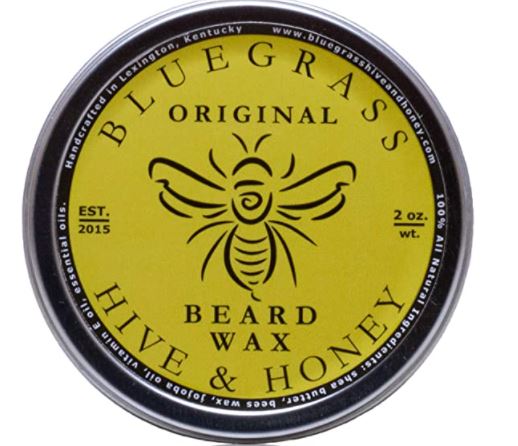 This beard wax is made by Bluegrass Hive & Honey, a company that prides itself on the locally sourced wax from Bluegrass bees.
This beard wax is specifically designed to use Natural and high-quality oils and butter to replenish your skin's moisture, reduce itching, and provide your beard what it needs to grow and stay healthy.
It will also help increase the tame by providing an all-day hold using locally sourced Beeswax. Find it on Amazon.
Mustache Wax by Mountaineer Brand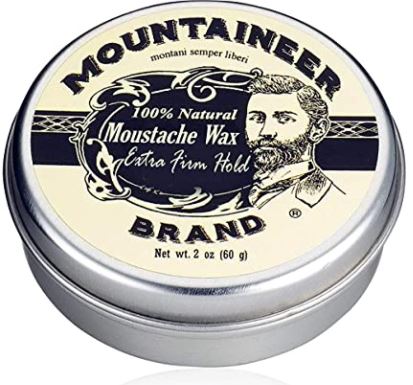 This super-strong formulation is made for an extreme amount of grooming control! The wax naturally is tough to touch in the tin – before use, you must soften the tin in warm water, in your pants pocket, or for a brief time under a hairdryer.
With Mountaineer, you don't worry about getting petroleum inside your body. They use natural beeswax and botanical oils that are a safe alternative to chemicals.
Another point to their favor, it doesn't get in the way of your natural hair color. It lets the real you show through. Find it on Amazon.
Seven Potions Beard Wax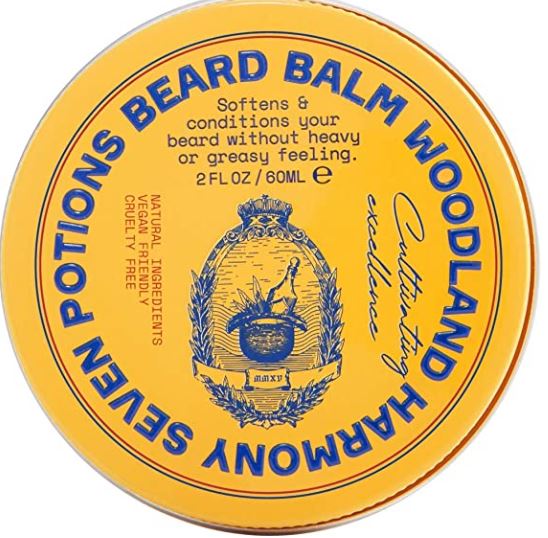 This premium beard wax offers to make your beard softer and healthier. It is made with 100% All natural ingredients, vegetarian with NO animal testing.
This unique blend of high-quality carrier and essential oils, including Coconut Oil, Palm Oil, Jojoba Wax, Peach Kernel Oil, Cocoa Butter, Avocado Butter, Vitamin E, Cedar Wood, Sandalwood.
It stops beard itch, reduces beard split ends, and helps with dandruff; use this premium wax to grow a healthy and strong beard. Find it on Amazon.
Billy Jealousy Tin Man No. 1 Wax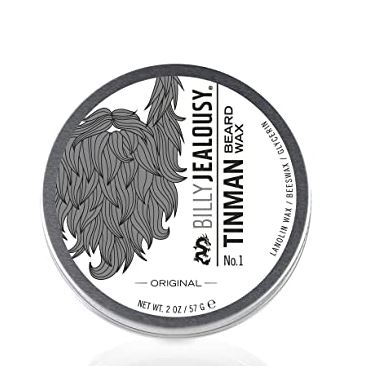 Tin Man Beard Wax is formulated with natural beeswax and glycerin to soften the beard and keep disorderly hairs in place without weighing hair down.
Softens and helps prevent itching and flakes while providing enough hold to style longer, wilder beards.
Protects beard without leaving behind any shine for a natural, no-product look. Tin Man is ideal for sculpting and styling your beard. Find it on Amazon.