If you are a bearded fella or are thinking about growing your beard, you will come across all kinds of products for your beard, but why get them separately when you can get everything your beard needs with a fantastic beard care kit. That's right, today we'll be sharing with you some of the best beard care kits available in the market.
Beard care kits have become essential for any man who wants to rock the beard look; once you grow your beard, your beard's wellness needs to treat it with the right products. Otherwise, instead of turning heads, people may tell you to shave. Among the things every bearded fella should own is a good beard care kit that ensures the lifespan of their man fur. It is definitely a worthwhile investment.
You can rest assured that your beard will be well kept, clean, and tidy; it will absolutely up to your masculine look. Now that you know how important it is to get the best possible beard care kit available, it's time to check out some options and choose what would be the best for you and the beard you've always dreamed of.
What is a beard care kit?
The beard of your dreams can be just a beard care kit away! A beard kit is essentially a bundle of products all designed and crafted for the upkeep of your beard, so it looks the best possible at all times. From styling and skincare products that provide the best caring and grooming experience possible.
What do you find in a beard care kit?
If you want your beard to look sharp, then look for the following products in your beard care kit.
Beard oil to moisturize
Beard balm for control
Shampoo for cleansing
Conditioner to nourish and keep his beard soft and healthy-looking
Beard brush to groom and distribute the beard's natural oils
Beard comb for detangling and styling
Scissors for maintenance
A beard trimmer to keep the beard neat
A beard guide on the best way to care for facial hair
Remember, once you understand what the products are supposed to do, these work in conjunction, so one without the other may not be as effective.
Best beard care kit
Full Size Unscented Shaving Kit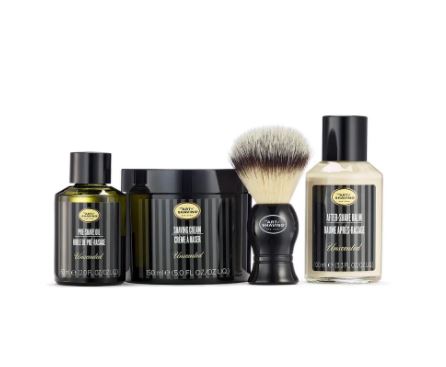 This is a four-piece set of full-size shaving favorites to help you achieve The 4 Elements of the Perfect Shave.
The set includes a full-size Pre-Shave Oil that helps prepare the skin for a close shave without leaving behind an oily residue. A full-size Shaving Cream generates a rich, foamy lather that helps protect the skin from irritation by improving razor glide. A full-size Fine Badger Shaving Brush that helps generate a rich and warm lather softens and lifts the beard, opens pores, brings sufficient water to the skin, and gently exfoliates. And a full-size After-Shave Balm that replenishes moisture to soothe dry skin after shaving.
To use before shaving, rub a small amount of Pre-Shave Oil onto your hands and massage into beard. Lather up your shaving cream or shaving soap on top of the oil using the Fine Badger Shaving Brush, then shave. Apply After-Shave Balm to your face and neck after shaving. Find it at Nordstrom.
King C. Gillette Complete Men's Beard Care Kit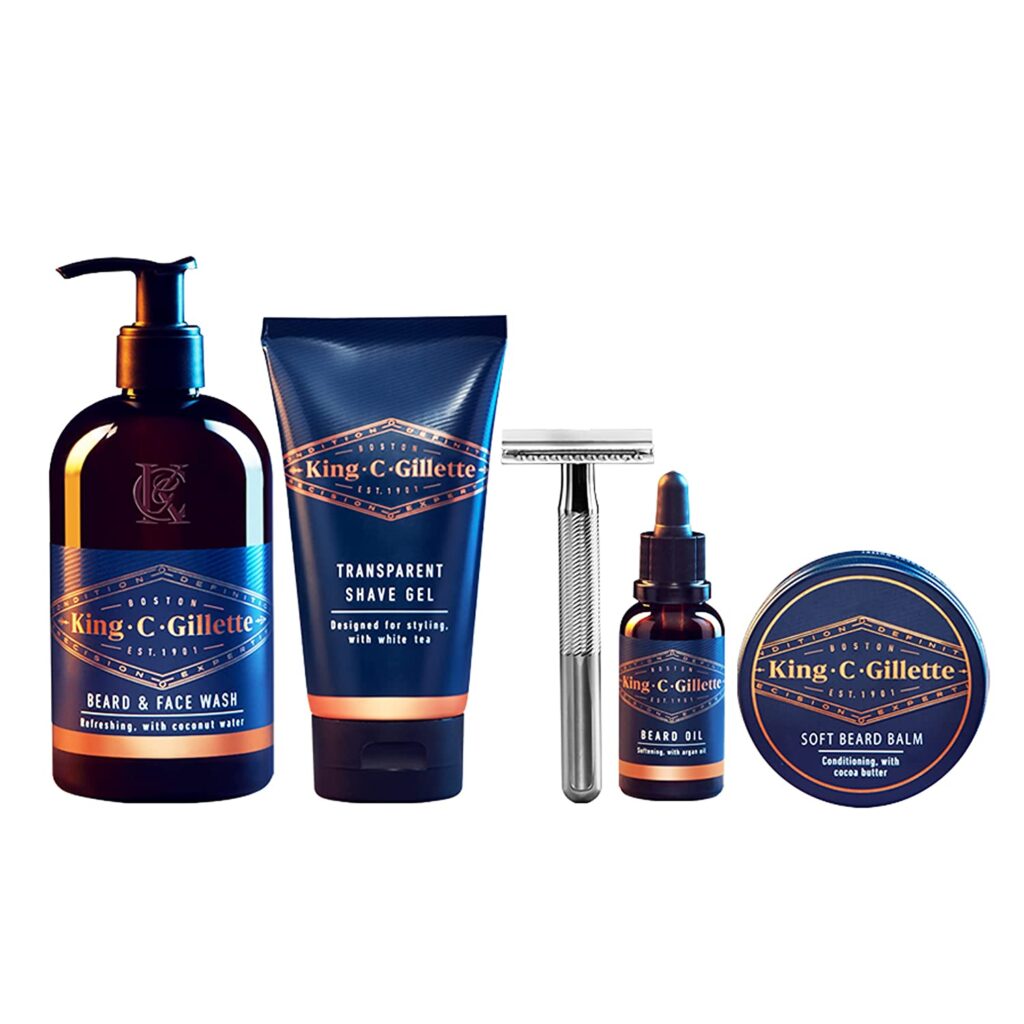 Gillette line includes a complete set of precision tools and quality care products, to enable every man to create his own unique style.
The King C. Gillette Complete beard care Kit includes essentials to care for and maintain your beard. This beard care kit includes: our Double edge safety razor + 5 Double-edge Blades, 11oz beard wash, 5oz shave gel, 1oz beard oil, and a 3.4oz beard balm.
The beard oil is 99% formulated with plant-based oils like avocado oil, sweet almond oil, and grapeseed oil. The beard balm has plant-based ingredients, like shea butter, cocoa butter, and argan oil. And the gel is made with glycerine and plant-based ingredients as well. Find it on Amazon.
Maison Lambert Ultimate Beard Kit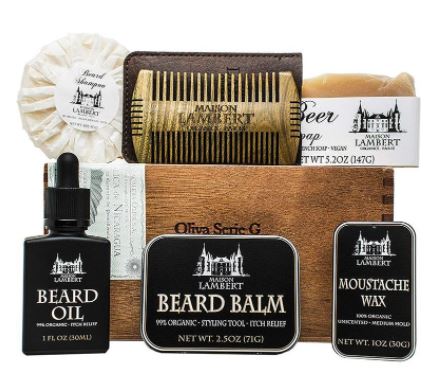 Looking to channel your inner 17th-century pirate, then check out this ultimate beard care kit from Maison Lambert and make your beard dreams come to life.
Maison Lambert, Ultimate Beard Kit, contains everything your beard could want and more; Organic Beard Balm, Organic Mustache Wax, Organic Beard Oil, Organic Beard Shampoo, real boar bristle beard brush, and an Organic Body Soap.
Made of luxurious organic ingredients, this set is packaged in a beautiful wooden box and scented with essential oils for their therapeutic benefits. Find it on Amazon.
Grave Before Shave Beard Care Pack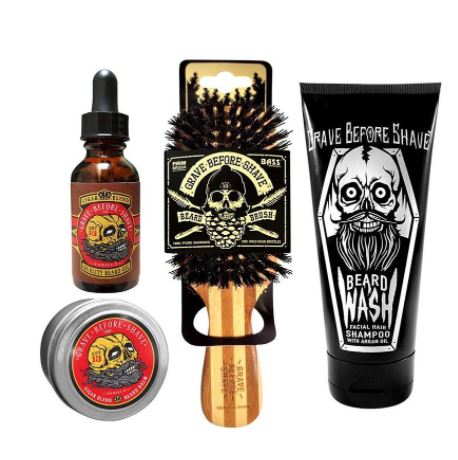 You get all the essentials; a Shave Beard Wash enriched with Argan Oil to keep your hair hydrated to the fullest. The Cigar Blend Beard Oil, made with all-natural ingredients that help condition, moisturize, and strengthen those precious beard hairs promoting healthy growth.
A Tin of Grave Before Shave Cigar Blend Beard Balm helps to tame your beard, reducing that pesky flyaway and unruly hairs while deeply conditioning and protecting your manly mane.
And one Grave Before Shave 100% Wild Boars Hair Beard Brush with Bamboo Handle. Your beard won't need anything else again. Find it on Amazon.
Ultimate Shave Set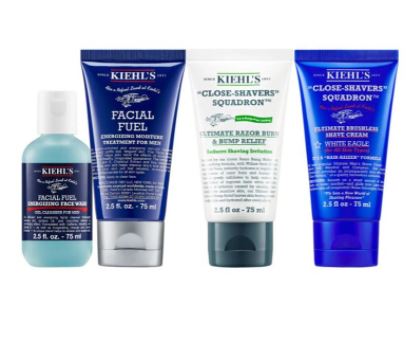 This is a limited-edition set featuring four men's skin care favorites to re-energize skin and reduce post-shave irritation.
It comes with Facial Fuel Energizing Face Wash, which refreshes and exfoliates your skin for a smoother appearance. The ultimate Brushless Shave Cream White Eagle provides a refreshing shave. The ultimate Razor Burn & Bump Relief, a post-shave remedy to help treat redness, razor burn, and razor bumps with a formula that's cooling on contact. And a facial Fuel Energizing Moisture Treatment, an enriched moisturizer that re-energizes the skin.
Use wet your face and apply Facial Fuel Energizing Face Wash, then work into a lather and massage over skin. Rinse. Smooth a small amount of Ultimate Brushless Shave Cream onto skin, then glide your razor across the shaving cream. Rinse thoroughly. Apply a small amount of Ultimate Razor Burn & Bump Relief. Finish with a dime-sized amount of Facial Fuel moisturizer. Find it at Nordstrom.
Naturenics Premium Beard Grooming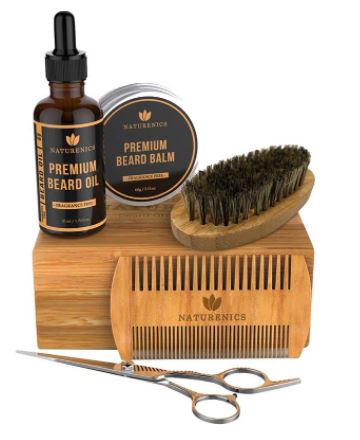 Is your beard in need of some love? Check out this kit which includes Unscented Beard Oil, Unscented Beard/Mustache Wax, Horse Hair Brush, Stainless Steel Japanese Beard Scissor, and an E-Book (PDF).
The magnetic bamboo box is made with fine attention to detail and includes tiny magnets to keep the lid shut. In this kit, you will find all of the tools to keep your beard in tip-top shape.
The unscented Beard Oil & Balm has the perfect formula for keeping your facial hair and skin hydrated, moisturized, silky soft, healthy, and groomed during a long day. It contains all the benefits but without any presence of a signature aroma. Find it on Amazon.
Beard Oil and Comb Set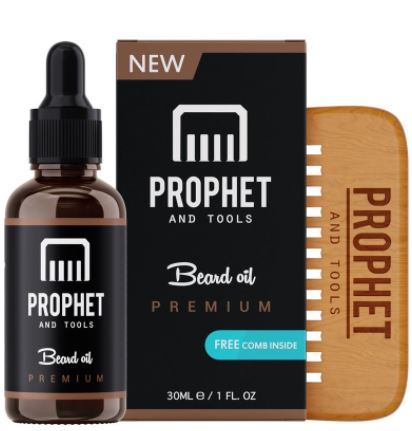 This beard oil with a comb is the beard fuel for your beard—the All-in-One unscented leave-in conditioner, softener, and faster beard growth essential.
Instantly cools beard itch, burning, and irritation! It makes your beard easier to tame, gives your beard a thicker look, and eliminates flaking in the beard. In addition, it softens the hairs and adds glorious shine to speeds up beard growth.
To use, apply to your fingers 1-3 drops or more according to your beard and rub together. Gently work the oil into your beard to keep it moisturized. Find it at Prophet And Tools.
Beard Grooming Kit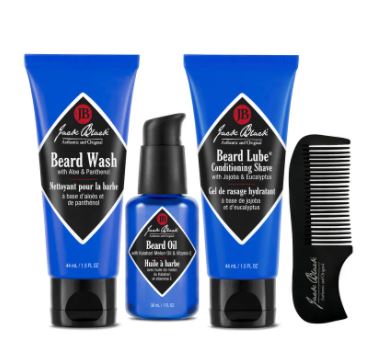 This kit is a well-rounded regimen for an unbeatable beard, featuring four steps of care that cleanse, condition, soften and style.
The set includes Beard Wash, that cleans and conditions facial hair. Beard Lube Conditioning Shave, that provides you with three important shaving benefits in a single tube by working as a preshave oil, a shave cream and as an after-shave conditioner. A Beard Oil, that helps you achieve a conditioned, healthy-looking beard and puts an end to flaky, itchy skin. And a beard Comb, that helps keep your facial hair well-groomed and neat.
It is Paraben-free; sulfate-free; phthalate-free, Dermatologist tested and Cruelty-free. Find this kit at Nordstrom.
Shave Kit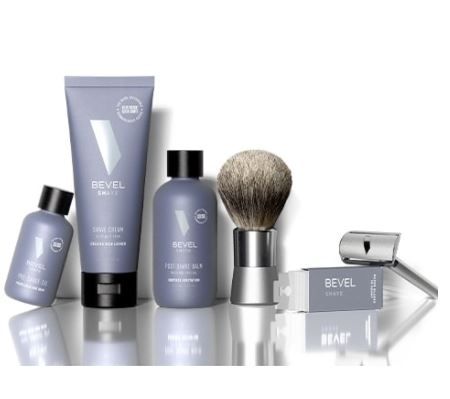 Bevel Shave System helps protect, cleanse, and nourish your skin every time you shave. In this Shave Kit, you'll find everything you need to do just that, including the Bevel Safety Razor, Shave Brush, Pre-Shave Oil, Shave Cream, Post-Shave Balm, and 20 Blades.
The Pre-Shave Oil preps your skin to reduce nicks and tugs; the Shave Cream moisturizes and creates a protective layer; the Post-Shave Balm soothes your skin.
Together, they help fight blemishes, irritation, and even out your skin tone. Find it at GetBevel.
Rapid Beard Grooming & Trimming best Beard Care Kit for Men Care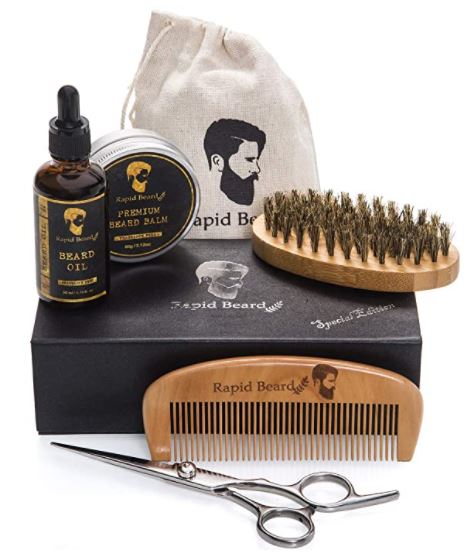 Natural boar bristles help distribute oil, improve hard hair texture, styling, shaping, smoothing, and conditioning. Ideal for firm beard and stache grooming, softening, and styling.
Argan oil, Jojoba Oil, and Vitamin E oil are the main ingredients. Ingredients are 100% natural and organic; you'll enjoy better beard growth without any unwanted scents or additives.
This beard oil leave-in conditioner has the perfect formula for keeping your facial hair and skin hydrated, moisturized, silky soft, healthy, and groomed during a long day. Find it on Amazon.