Every man with a beard knows that growing, maintaining, and styling a beard a certain way, takes some work. And because what guy with a beard wouldn't want to look its best at all times, we hear you, and we'll be telling you everything you need to know about the best beard products you can find out there in the market today.
Be aware that if you own a beard, you will need different products to make it look good, and if it doesn't, you are not doing things right, and chances are you need beard products desperately. Beard care is a real thing, and the more you educate yourself, the healthier your beard will feel and look.
There are certain guidelines, tips, and tricks when it comes to beard products, but at the end of the day, you will have to choose what works best for you. It depends on several factors, including hair type and beard length, and the products that might work for some may not work in the same way for others. So you may go through a bit of trial and error phase, but you'll get there.
There are tons of beard products you may want to try before completely giving up on the beard of your dreams. So, check out the following beard products to give you the best possibilities for the beard you were always meant to have.
Best Beard Products 2021
In this list you'll find 20 of the best beard products, from beard conditioners, beard oils, beard balms, beard trimmers, beard brushes and much more; anything that falls into the beard care category and can provide a positive impact in the propper maintance of a true manly beard.
Jack Black Beard Oil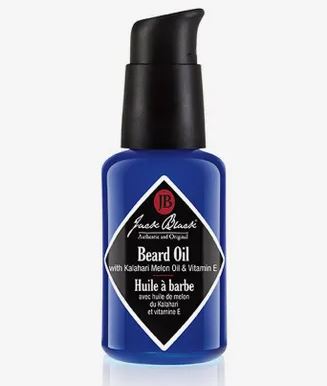 Jack Black Beard Oil is an exclusive blend of certified organic natural oils, potent antioxidants, and vitamins that helps to prevent dry, itchy skin. It hydrates and softens dry, brittle facial hair for a healthy shine.
Botanicals and essential oils work together to soften brittle facial hair and produce a healthier, shining beard.
All you need to do is pump 2 or 3 drops of Beard Oil into your palm. Rub your hands together and massage them upward into the facial hair. Find it on Amazon.
The Salon-Approved Beard Oil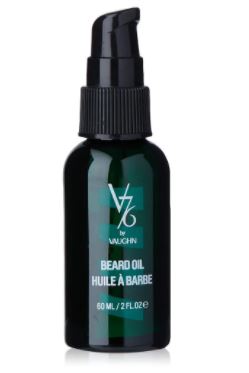 This oil formula will provide softness to coarse beards and mustaches. This conditioning, hydrating oil is best suited for those with dry hair types.
It is easily absorbed; it soothes facial hair and skin, leaving them hydrated and protected. It contains Saw Palmetto, which promotes skin and hair health while soothing the skin and scalp. Safflower oil prevents dryness, smoothens roughness, and soothes skin.
It is vegan and cruelty-free. Formulated without Parabens, Sulfates, Mineral Oil, Petroleum, Gluten. To use rub into the body of a full beard. Fully coat from the skin to the end. Find it on Amazon.
Honest Amish Classic Beard Oil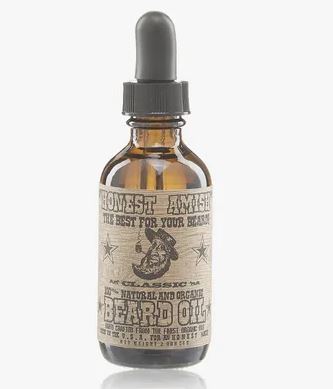 Honest Amish's Classic Blend Oil has over 7 expertly selected premium oils as well as 7 essential oils that target hair growth, conditioning, beard, and skin health and are full of minerals, vitamins, and antioxidants to help nourish your beard and relieve any irritation of new growth.
With Honest Amish oil, you have nothing to worry about if you're concerned about synthetics and preservatives, too; the oil is just a blend of different organic oils, avocado, pumpkin seed, sweet almonds, and argan.
This oil is designed for all beard types, and all you need to do is apply the needed amount to a slightly damp beard. Find it on Amazon.
Professor Fuzzworthy's Beard Shampoo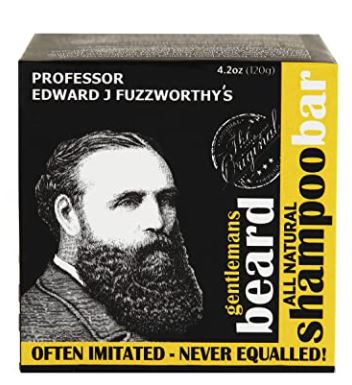 This shampoo was voted #1 Best Beard Shampoo; it has a masculine woody scent and organic ingredients for anti-itch, beard softener, and to promote faster, thicker beard growth.
All-natural premium gourmet ingredients selected to fortify your beard, skin, and beard growth. Good for all beard types, hair types, and skin types.
Suggested use is to simply wet beard, work bar through, and using fingers to create a rich later work through hair thoroughly. Rinse well and repeat if desired. Find it on Amazon.
The Deep-Cleaning Beard Shampoo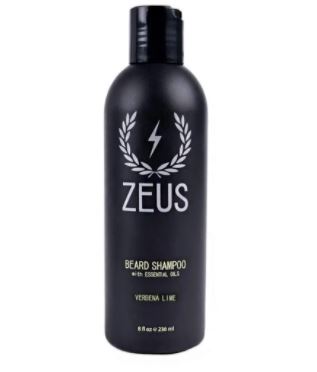 With this shampoo, you will clean your beard of excess oils and other contaminants, reduce beard itch, moisturize skin, soothe skin, reduce beard dandruff, and soften the beard.
This gentle beard shampoo and wash formulated specifically for your beard and mustache, using only the best natural ingredients.
To use push the top open and squeeze a small amount of beard wash onto your fingertips. Massage into your wet face and beard, avoiding the areas around the eyes. Rinse and repeat as necessary. Find it on Amazon.
Taconic Shave Beard Shampoo Bar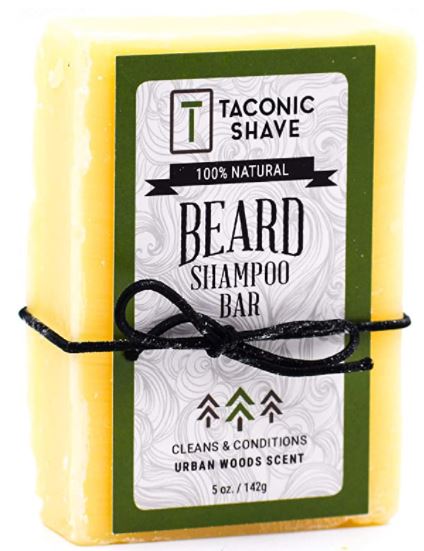 Taconic Shave's beard shampoo bars are handcrafted with 100% natural and organic ingredients to clean, soften and condition your beard and skin.
The foamy lather with our subtle urban woods scent will leave your beard smooth, fresh, and frizz-free. Safflower & coconut oil have moisturizing qualities, which will condition and soften your beard. Castor oil contains triglyceride fatty acids that provide long-lasting hydration and nutrition.
Use this bar as a multi-tasker to wash your hair, face and body! Find it on Amazon.
The Non-Greasy Beard Balm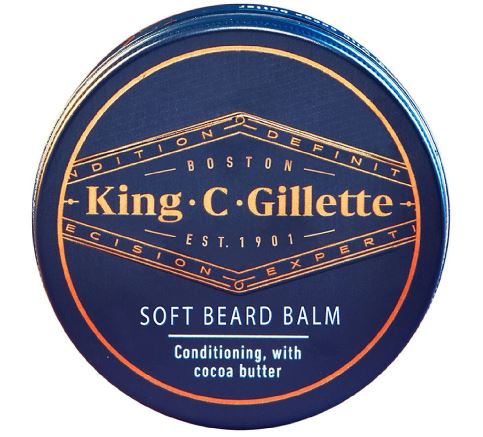 This Soft Beard Balm with Cocoa Butter from Gillette is infused with rich cocoa butter, argan oil, and shea butter deeply conditions to leave your beard feeling soft and smooth.
It will deeply condition facial hair to leave your beard feeling soft and smooth. It can also be used as a leave-in beard softener or a deep conditioning beard mask before rinsing in the shower.
Ingredients include Water, Stearyl Alcohol, Silicone Quaternium-26, Behentrimonium Chloride, Cetyl Alcohol. Find it at Walgreens.
Beardbrand Utility Balm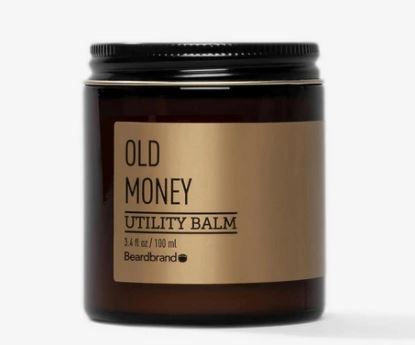 Beardbrand Utility Balm is designed for the beards-man who needs a do-it-all product. It features all the benefits of our Beard Oil, but it works magic on dry skin in a balm form that gives more control to pesky flyaways.
With all-natural shea butter-based products, there is the possibility that the product will develop a grainy consistency. It is recommended to warm the product in your hands, melt it into a smooth balm.
After applying to your beard, you can even apply what's left on your hands to the skin under your eyes to help reduce the appearance of fine lines. Find it on Amazon.
Seven Potions Beard Wax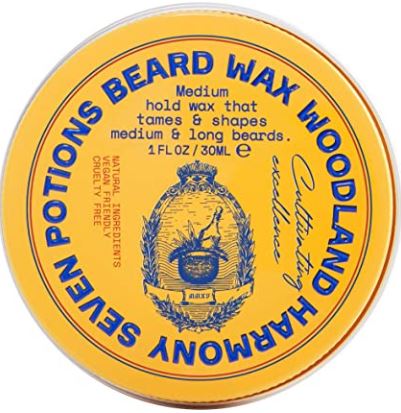 Use Seven Potions Beard Wax to add form and nourishment to your beard. Intended to help you tame rowdy hairs that will not stay in place, this 100% all-natural beard styling wax delivers an ideal gentle hold without leaving your beard stiff or sticky.
It is simple to use to shape and style your beard with just wax and your fingers. You can also use a beard brush to make sure that the balm is nicely distributed across the entire length of your beard.
Made with natural and organic ingredients with NO animal testing, no colorants, no parabens, and no synthetic chemicals. Find it on Amazon.
Lucky Tiger Mustache Wax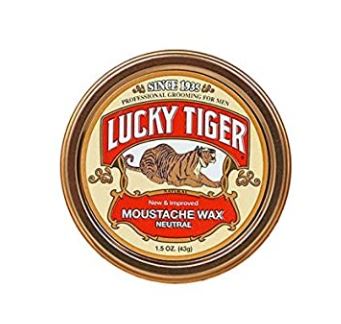 Lucky Tiger mustache wax is a classic for the true connoisseur of the mustache. Formulated with pure lanolin, our barbershop classics mustache wax conditions grooms and controls the facial hair that keeps a man looking his best.
Use Lucky Tiger mustache wax to sculpt both unique and traditional mustaches, beards, eyebrows, and sideburns at a moment's notice. Find it on Amazon.
Maestro's Beard Butter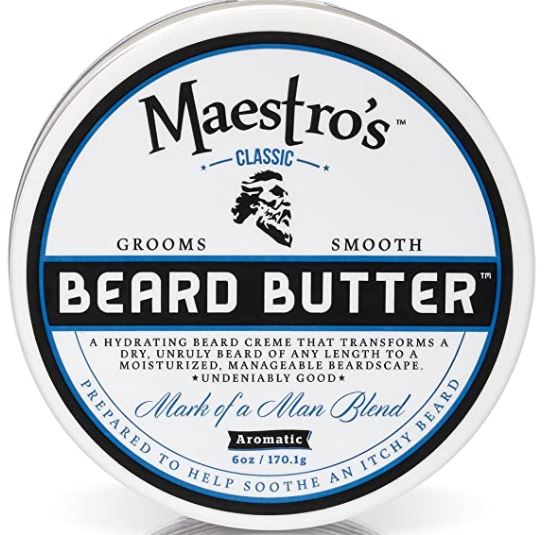 This is a lightweight product containing multiple conditioning agents that will groom, soften and make your beard more manageable.
This "Undeniably Good" hydrating cream "Lays it Down" every time. Formulated with Grapefruit, Black Pepper, and Bergamot note in the fragrance for a classy black-tie experience.
This hydrating creme is water soluble rather than oil based and succeeds in bringing moisture to the skin on your face and the hair on your chin. Suited for all hair types. Find it on Amazon.
Live Bearded: Beard Butter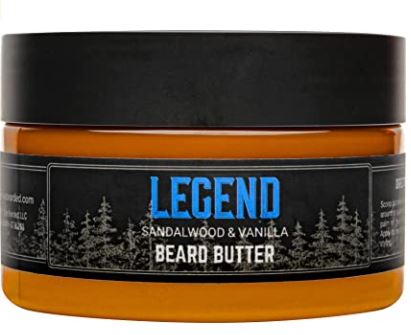 This beard butter for men works like a leave-in conditioner, locks in moisture, tames flyaway hair and keeps your beard stylishly controlled just the way you like it.
It won't weigh your beard down or leave it feeling greasy. Its light to medium hold adds the perfect final touch to your beard care routine.
Blended to perfection with all-natural ingredients that are easily absorbed into your beard, leaving it instantly fuller, softer, healthier, and smelling amazing. Find it on Amazon.
Bossman Men's Bar Soap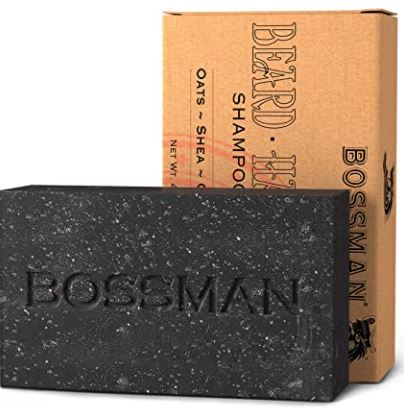 This 4 in 1 bar soap for men is infused with a masterful blend of organic moisturizing oils like coconut oil, shea butter, and palm oil.
The organic oils in our men's soap will clean, nourish, and strengthen your hair and skin. It also works great as shaving soap.
It doesn't contain harsh foaming agents that dry out hair and skin while robbing your body of its natural oils. Made with coconut oil, shea butter, palm oil, safflower oil, plantain leaf powder, and cocoa powder. Find it on Amazon.
Bossman Beard Relaxing Balm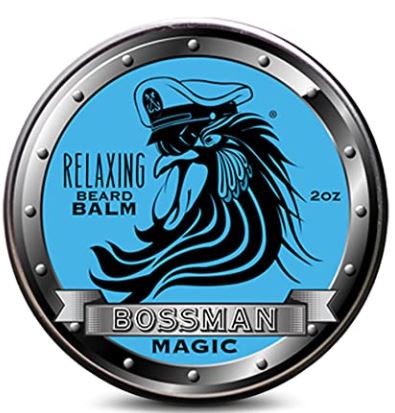 This relaxing beard balm replenishes dry beards thanks to a blend of hair-strengthening natural oils and butter.
This beard relaxer effortlessly softens, conditions, and repairs dry splitting hairs, and cultivates new growth. Made with active ingredients such as Mango, Shea Butter, and other nutritious oils that nourish, thicken, and strengthen your beard.
This all-natural formula is good for your skin and hair and tames the "fly-aways" to promote a strong, sleek look. Find it on Amazon.
Arkam Beard Straightener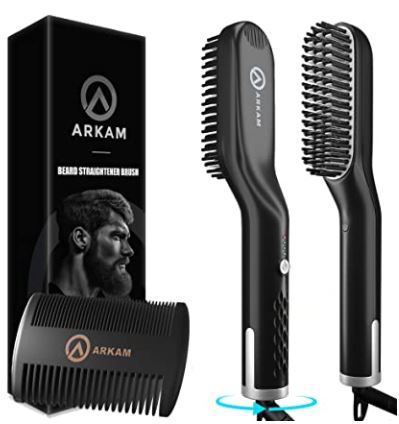 Arkam Premium Beard Straightener for men features rapid heating technology, and Arkam's beard straightener comb was designed to save you valuable time and achieve the perfect look.
This 2-in-1 heated beard comb for men doubles as a hair straightener, so you can tame your mane and look your absolute best every day.
Thanks to advanced ionic technology, this beard straightener will reduce frizz and lock in moisture for smooth & healthy results. Find it on Amazon.
Sanguine Beard Trimming Scissors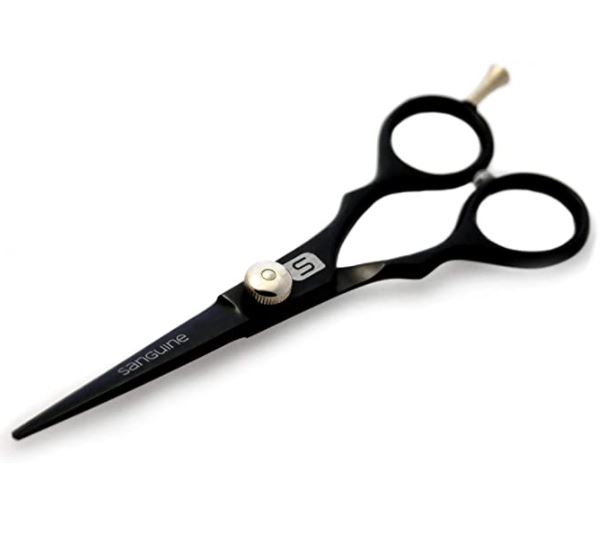 Every beards-man will need the best scissors for trimming necessities. This pair is very comfortable to work with; it is light-mid weight with unique deep black color, which is appealing to the eye.
The Sanguine scissors are suitable for professional as well as for personal use. It has extremely sharp blades for a clean-cut and will not damage or split hair ends.
These are crafted, made from Japanese steel J2, and have an around, smooth tension screw system that gives a greater required tuning. Find it on Amazon.
Tweezerman G.E.A.R. Moustache Scissors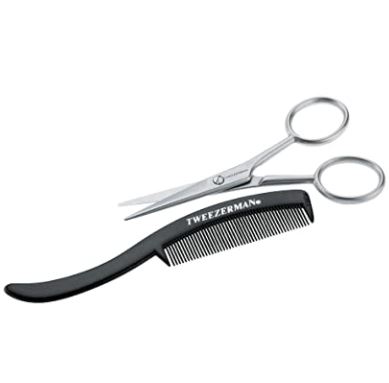 Sharp, straight blades for precise trimming of moustache, beard and brow hairs. Feel good and look well-groomed.
These have an ergonomic design with large finger loops providing added control. Its micro-serrations keep hair from slipping, and its stainless steel blades are durable and high quality. Find it on Amazon.
ZilberHaar Beard Brush (Soft Bristles)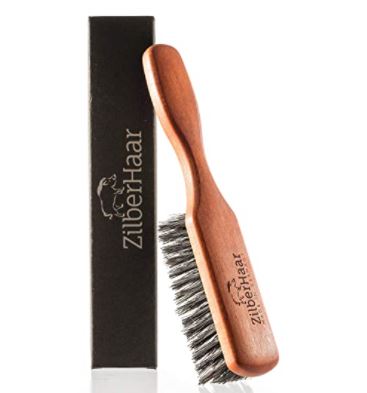 Made in Germany, this is a quality beard brush made by expert craftsmen with all natural materials. Pure soft boar bristles and pearwood.
Its soft-bristled brush delicately reduces beard itch and exfoliates your skin. Straightens your beard. The soft brush is great for sensitive skin or for men who have never owned a beard brush.
The all-natural materials make a perfect soft boar brush for beard care that softens your beard as you use it. Find it on Amazon.
Baxter Beard Comb for Men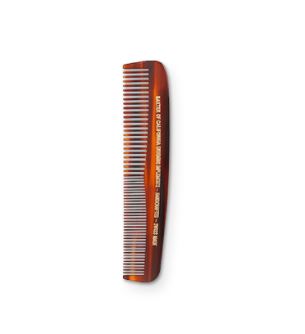 This handcrafted, Swiss-made beard comb is the ideal men's grooming tool to help you shape, tame, and untangle your beard.
Handcrafted in Switzerland from high-quality cellulose acetate sheets, a naturally modified polymer derived from cotton and tree pulp cellulose.
From cutting to polishing, each comb goes through a detailed 12-step process of manufacturing, entirely done by hand. Find it at Baxter of California.
Philips Norelco Beard Trimmer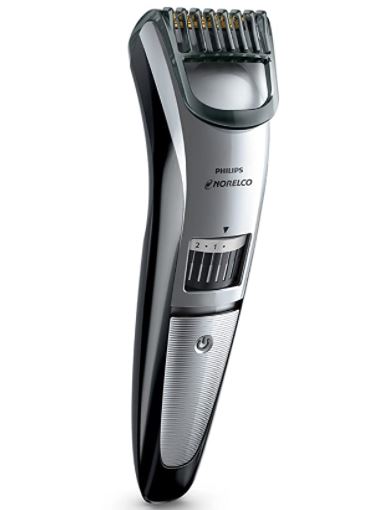 This Philips Norelco Beard trimmer 3500 has 20 built-in length settings with one single comb to deliver a hassle-free trim to style your beard and stubble.
The zoom wheel technology provides length settings from 1/32 inch (0.5 millimeters) to 13/32 inch (10 millimeters).
The trimmer comes with self-sharpening titanium blades to effectively cut each hair preventing skin irritation. Blades stay extra-sharp, so your product is always ready to use. Find it on Amazon.