For all the bearded dudes out there, beard care is not just a fashion statement; it's a lifestyle for the manly man inside of you. When it comes to beard grooming, there are a lot of options. You can find beard oils, beard balms, beard butter, and more. You can achieve your desired goals if you use the right products and a popular product is beard pomade, so today, we'll be covering different types so you can choose from a variety of pomades.
Beard maintenance is an integral part of grooming your facial hair, and choosing facial hair products depends on your needs, and there are various items that you can consider for that particular purpose. Beard pomade certainly has a place in the life of every bearded fella that is looking to get all the bard compliments possible and, frankly, to make all the heads turn.
Beard pomades have become a vital part and are a vital tool for men striving to keep their facial hair well-groomed. And beards are a very personal thing, so what may be the best type of pomade for one person may not be the best for another. But which is the best one? We'll be taking a look at different types of beard pomades and why you should be using them.
What is beard pomade?
Beard pomade is a leave-in conditioner made with nourishing ingredients that both style and hydrate the hair. It has the power to tames flyaways and keeps your beard looking great, rather than dry and weathered. It's basically ensuring that your beard won't dry out and will retain moisture within the beard while looking styled.
How often to use beard pomade?
It really depends on you and your beard needs, most use it every day.
How to use beard pomade?
Using beard pomade is a simple process, just follow a couple of steps and you'll be all done.
Take a dab of product.
Rub it between both hands and move it along each section of your beard.
Keep working it throughout the beard until well spread
Comb the beard pomade through and style it
Who should use beard pomade?
Beard pomade is best suited for those rockin' medium-long beards. The pomade will make it easy to comb into the beard to settle strays and create a clean, neat look.
Difference between beard pomade, beard balm and beard oil?
All these products have moisturizing ingredients, but the main difference relies on hold, beard oil offering the lightest hold among all options, the reason why is recommended on shorter, trimmed hair.
Beard balm is a pomade, and pomade will offer greater shaping benefits and conditioning on longer beards.
Benefits of beard pomade?
Prevents dandruff
That's right, annoying dandruff isn't only reserved to appear on your head; if your beard or facial hair isn't nourished properly, you may end up with irritable and flaky skin. Pomades are beneficial in this sense because, thanks to their moisturizing abilities, they will leave your beard and the skin underneath nourished and healthy, which in turn stops flaking.
Protection from elements
If you regularly use beard pomade, your beard will have this kind of 'barrier' against the elements such as cold, prolonged sun exposure, and intense humidity.
Styling becomes a breeze
The content of pomade will make your facial hair so manageable that it will be super easy to manipulate and style it however you want.
Beard growth
If you want your beard to grow, you need to know what you're putting on it. Pomade can help solve problems like split ends and reduce breakage, which all result in a soft, flowing, and healthy beard.
Different types of beard pomades?
Pomades are typically either oil-based or water-based.
Oil or petroleum-based are those with a wax-like consistency. Oils-based pomades last longer on your beard.
On the contrary, water-based pomades are soluble in water and are usually much lighter in consistency. While their texture and hold may be similar to oil/petroleum-based pomades, they don't typically last. As a result, you may find yourself re-applying the product at some point if you're looking for extra hold.
On the other hand, many opt for water-based pomades because they are less likely to cause breakouts on the skin under the facial hair.
Beard pomades
Rocky Mountain Barber Company Pomade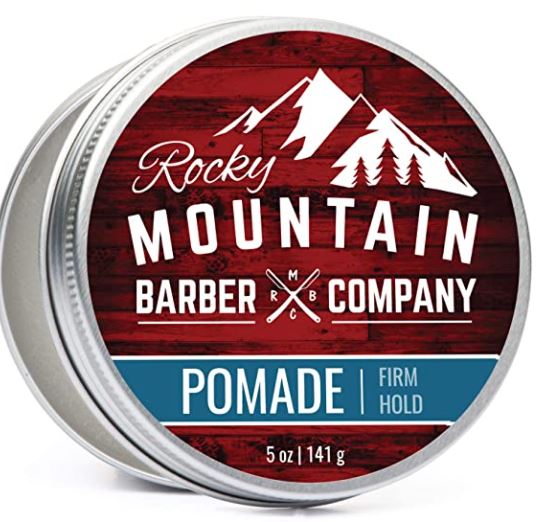 Whether you're aiming for the iconic slick back, side part, pompadour, or any modern look – it's the best pomade for any hairstyle where you need a stronghold, a natural high-shine, & a little bit of edginess.
Unlike oil-based pomades, which can be difficult to wash out and can damage your hair, our premium water-based pomade can be washed out easily and won't strip the natural oils from your hair.
This pomade is designed to have a light natural scent that won't come off as overpowering. Find it on Amazon.
Suavecito Pomade Original Hold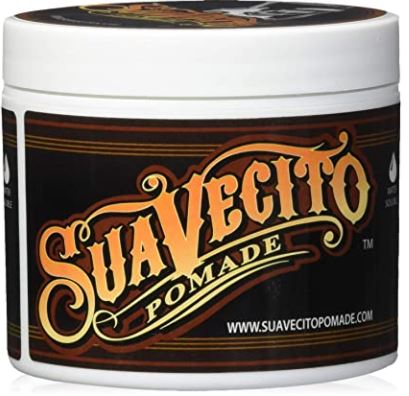 This is a uniquely scented styling water-based product formulated to keep your hair in place all day long. It combs into your hair easily with its creamy consistency and provides a strong grip for a slick back, pompadour, side part, or any hairstyle you are rocking.
This pomade is water-soluble, washing out with no effort using only water, leaving your hair feeling untouched.
No special shampoos or soaps are needed for removal. It dries with medium firmness and medium shine. No flakes and no harsh chemicals. Find it on Amazon.
Bossman Beard Pomade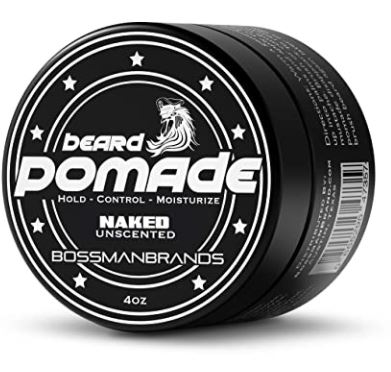 Bossman Beard Pomade gives the moisture your beard needs, but it also adds weight, control, and hold. Say goodbye once and for all to those pesky flyaways, and say hello to a newly shaped beard all day long.
This pomade is great for shorter beards that need to be whipped into shape or the wild larger beards that need to settle down.
Beard Balm and Beard Wax are great moisturizing products, but they don't control unruly beard needs. This unique beard pomade can be reactivated by brushing throughout the day. Find it on Amazon.
OKAY Men's Super Hold Beard Pomade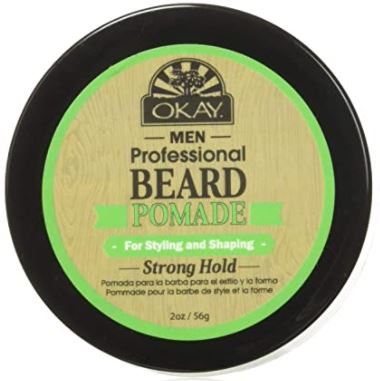 Looking for a firm and stronghold? Tame that wild face fur with the For Men Beard Pomade Super Hold from OKAY.
OKAY has been dedicated to bringing only high-quality products with all-natural ingredients to the bearded guys.
Great for styling and shaping men's facial hair, your beard will be left shiny and with a light fragrance. Find it on Amazon.
Death Grip Pomade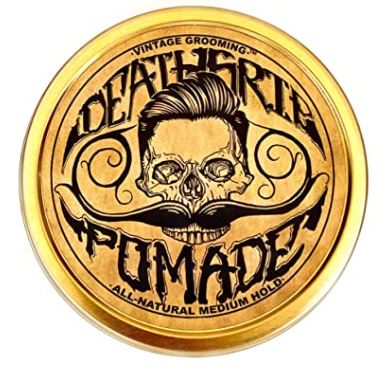 Works perfect for grooming curly, straight, frizzy, or kinky hair. Regardless of your hair color is black, brown, blond, red, grey, or some other color, Death Grip Pomade looks great.
It offers medium hold & medium shine for any men grooming any hairstyle.
This grooming pomade is 100% chemical-free; it doesn't have parabens, pesticides, fertilizers, GMO's synthetics, or chemical processing agents. Find it on Amazon.