Every middle-aged man with a beard knows what it is to have grays in their beards; for some is cool, and for others, it's just not time, not yet. But fear not, if what you are trying to avoid is the comments that you're looking more and more like your father, then a beard dye comes to the rescue. And you are in luck because we'll be telling you about different beard dyes you can find out there.
For all the bearded gents out there, beard care it's a must; it's a lifestyle for the manly man inside of you. And we totally get it; you want to go with the trends, you want to look good, but when the passing of time hits, bearded fellas literally get hit in the face…with the dreaded grays.
When it comes to beard grooming, you need to put in some effort. You can't just grow your beard, forget about it and then expect it to look perfectly nice out of magic. Especially when it comes to covering gray facial hair, something must be done, and here is where beard dye comes in.
If you've already decided to walk down the path of the brave, the path of the true bearded men, you must be ready because you will face gray hair at some point; however, with the help of a beard dye, you can buy some time. So now that you know that beard dyes are a vital tool for the men striving to keep their facial hair looking uniform is time to know which one is right for you.
Beard Dye types?
Depending on what you are looking for, you can choose between permanent or semi-permanent beard dye.
Semi-permanent or temporary beard dye as the name tells you, will last only for a limited amount of time. With a temporary facial hair dye, you will color only the outside layers of your beard as it doesnt' penetrate very deep into your beard.
Though these do not cause any chemical reaction, you need to reapply it every day because most of the semi-permanent best beard dyes can be washed out easily.
With permanent beard dye, it is not like it will last for the rest of your life. However, you'll be free of facial grays for several weeks.
A big thing to keep in mind is to choose the right color as it will be stuck with you for a considerable amount of time.
A permanent beard dye is the equivalent of women getting a hair dye; this means you'll be putting hydrogen peroxide and ammonia to your beard, which works in covering your grays but can also leave you with a damaged beard due to chemicals.
How to dye your beard?
So you've finally decided yo get rid of that salt-and-pepper look that deep down has been bothering you, good for you! Dying your beard is not rocket science, it is a simple process but certain steps are necessary.
Protect your skin. It is highly recommended to apply Vaseline or mineral oil around your beard; this is because, most likely, the dye will leak from your beard onto your skin. The Vaseline will prevent your skin from getting irritated, and it will be much easier to remove the color from your skin.
Prepare your dye. In case you didn't know, you need to prepare your beard dye. You will do this by mixing and blending the base color tube thoroughly with the color developer tube. Both come separately, and you need to mix them up.
Apply your dye. Once you've mixed these two in a dish-like container and you've previously washed your beard, dip your brush into the dye and apply the beard dye on your beard by using up and down motion.
Repeat if necessary. Let's imagine you've waited for as much time as the instruction on the package said, then it's to taste the color of your beard. You'll do this by using a cotton swab. Wipe off just a small amount of the beard dye and if you notice that it's still very light, reapply more dye and let it stay for a few minutes.
Rinse out the dye and wash your beard. The dye needs to be removed from your facial hair. Just use abundant water and rinse your beard until you notice there's no more dye coming out. Then using whatever beard shampoo you already use, wash your beard.
Beard dye
Control GX Gray-Reducing Beard Wash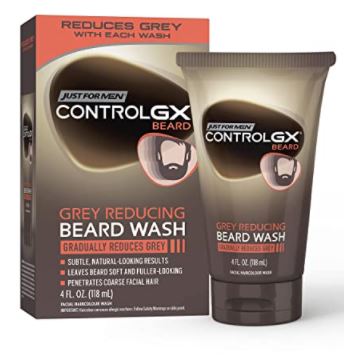 Just for Men Control GX beard grey reducing wash, control GX beard offers to gradually reduce gray facial hairs by slowly bringing them back to their natural shade while it cleanses and conditions your hair.
You get an extremely natural look – just by washing your beard. Just use it instead of your usual beard wash until you like what you see. Is that easy! After the first few washes, you'll start to see a subtle reduction in the amount of gray.
Then use it in rotation with your usual beard wash to maintain the look you like. There's never been an easier way to control your gray facial hairs. Find it on Amazon.
Cremo No Mix No Mess Hair and Beard Color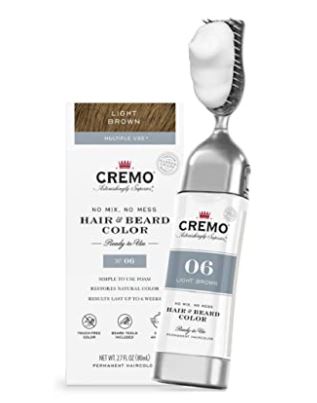 Thinking of coloring your hair and beard? Cremo No Mix, No Mess Hair & Beard Color; offers to make the application much simpler with its ready-to-use design.
Just click, shake, foam and comb. No mixing. No gloves. No mess. One simple solution that colors your hair and beard evenly in about five minutes.
Cremo's No Mix, No Mess color foam is designed for both your hair and beard, so every strand stays the same tone. Find it on Amazon.
Beard dye by GRIZZLY MOUNTAIN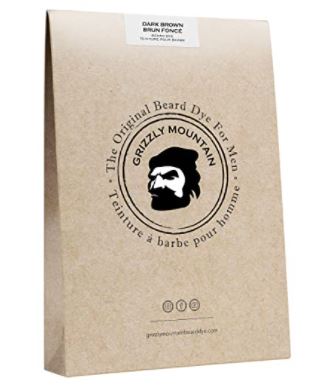 The Original Beard Dye from Grizzly Mountain is permanent, 100% organic, and chemical-free.
It is a gentle and natural alternative to harsh drugstore brand beard dyes, which greatly reduces the chance of irritation.
It is a fine herbal powder rendered from fresh Emblic, False Daisy, Neem Tree, Henna, and indigo; that leaves your beard with varying shades of dark brown, respecting the natural coarseness of your beard.
Contains 100 grams (3.2 ounces) of Grizzly Mountain dark brown beard dye AND 30 grams (1.06 ounces) of Grizzly Mountain Organic Base (also 100% chemical-free). Find it on Amazon.
MR Hair Color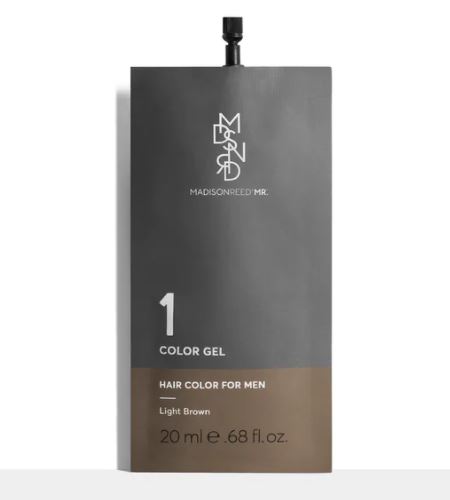 Formulated for men, and easy to use just apply the color gel directly to your dry, unwashed hair, then work in the conditioning activator. Wait 15 minutes, rinse and shampoo. Viola! It will subtly reduce the grays for hair and beard.
It includes everything you need for 2 applications: 2 pairs of gloves, 2 packets of Color Gel, 2 packets of Color Activator, 2 packets of shampoo, easy to follow directions.
Recommended use is every 2 weeks to maintain your color. You can choose from various colors, including dark blonde, light brown, medium brown, and graphite.
Find it at MADISON REED.
True Sons Hair Dye for Men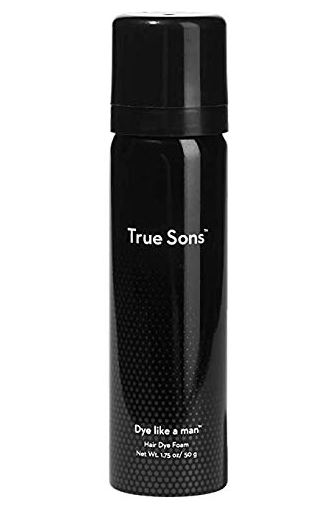 This all-In-1 hair dye is not only applicable to hairs but is an optimal beard dye and can be used for mustaches also. It will perfectly match up all your body hair color. Some guys have used it on the chest as well.
Unlike hair dye shampoos that leave your hair colored at the cost of dry, dull & frizzy hairs, this dye foam formula contains no ammonia and no harsh chemicals that can damage your hair giving you natural-looking results that never look fake.
Choose from 7 different shades, including Dirty Blonde to Brown Black. The Medium Brown is a mix of cool earth tones for guys who have rich, milk-chocolate tones. Find it on Amazon.