Bearded dudes are everywhere these days, so it's pretty safe to say beards are here to stay, at least for a while. A beard is a great way to add personal style to your look, but it also needs some maintenance. This is where beard shaping tools come in and why; we'll be talking about types of beard shaping tools.
If you are a guy with a beard or want to be, you can't grow your beard and forget about it. You can't walk through life with a scruffy, nasty-looking beard. That's why every man with a beard needs a beard shaping tool in their life. They can help you to maintain your beard and keep it looking sharp.
A lot of people choose a comb or a brush. But there are other ways to maintain your beard, too. There are various beard shaping tools available, in fact, there are many different beard shaping tools on the market, and it can be unclear which one is the best. Keep in mind the best beard tool is the one you'll actually use and the one that will do the job.
What is a Beard Shaping Tool?
A beard shaping tool is a comb-like grooming tool that is used to shape the beard. It has a row of teeth set into the comb and rows of teeth set into the comb. In some beard shaping tools, the teeth are set into the comb with spaces in between.
There are two types of beard shaping tools: trimming tools and shaping tools.
Trimming tools are used to cut facial hair down to a specific length. Be aware that these tools do not change the shape of the beard. You can use a comb, scissors, or a shaver to trim your beard.
Shaping tools on the other hand, can change the shape of your beard. You can use a razor, trimmer, or clippers to shape your beard.
The main goal of a beard shaping tool is to make you look like you expertly crafted a perfect beard from your scruff.
Who should use a Beard Shaping tool?
All man with a beard can benefit from using a shaping tool, however those who are looking to have a beard with a more angular twist, or perhaps want your beard to end in curved lines at the cheeks, heading down to your mouth; that is the perfect job for a beard shaping tool.
In conclusion a beard shaping tool in combination with your favorite beard trimmer can leave you with a trim that's nearly as good as going to your barber.
What to look in a Beard Shaping Tool?
Angles: There are four main areas that most beard shaping tools can handle: the cheeks, neck, jaw, and sideburns. These areas are also the spots where most men need a little assistance shaping their beards. This is why you want your beard shaping tools to have as many angles as possible.
Material: Many beard shaper tools are made from plastic, but beard shaper tools made from a sturdier material, like some metal, will be more durable in the long run and will be more helpful if you have an unusually thick or tangled beard. Stainless steel beard shaping tools are also great because they are resistant to corrosive damage.
Size: Size matters, smaller beard shaping tools are perfect for putting in your bag and taking with you to a social event or during a business trip. Large beard shaping tools are better for guys with huge beards that reach past their chin. These are also easier to use with most beard trimmers.
Comb Number: Beard shaping tools come with one or more combs. You can use these combs to keep your beard in the perfect position for trimming. But not all beard shaping tools come with the same number of combs, and the best beard shaping tools will have more than two combs to provide you with additional styling options.
Accessories: Lots of the best beard shaping tools will come in kits or packages designed to include all the things you need to take care of your beard for the foreseeable future. They can include Beard Combs, Mustache Comb, Styling Comb, Beard Brush, and Beard Trimmer.
How to Use a Beard Shaping Tool
What you need to do is to line up the beard shaping template to your cheeks and jawline, then use your trimmer or scissors to cut along the guide. The result is a symmetrical beard shape that perfectly matches on either side.
If shaving your neckline, you can place the beard shape tool under your jaw and quickly use the guide to create an even line.
Beard Shaping Tool Guide
The Aberlite Beard Shaping Tool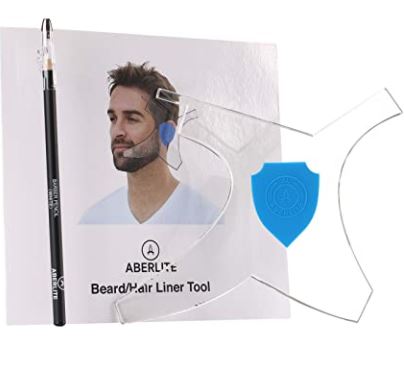 This shaper allows you to choose the design you want! It can give you multiple options for trimming. The long edges and design make the tool easy to place and hold on to any facial structure.
You can trim perfect beard/hair fade styles, curved or straight cheek lines, extra clean necklines, curved or straight goatee lines, and nice sideburns. One shaper fits all.
Use the white professional barber pencil to outline your perfect beard line and begin to trim or directly apply a razor/trimmer with the liner tool. Find it on Amazon.
The Anti-Slip Beard Shaping Tool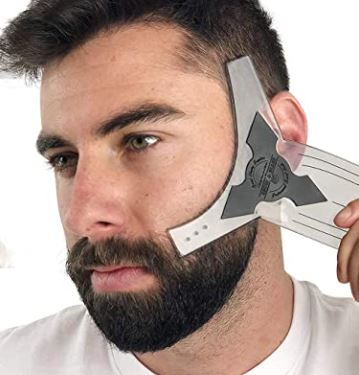 Get ready for a shape you want; this works with a beard trimmer or razor to style your beard & facial hair.
Designed For Beards: Lightweight & compact, great for home and travel, made from long-lasting and durable raw materials, created to last forever.
This beard shaping tool is made from long-lasting and durable high-quality raw materials, developed to last forever. Find it on Amazon.
The Cut Buddy Hair & Beard Shaping Tool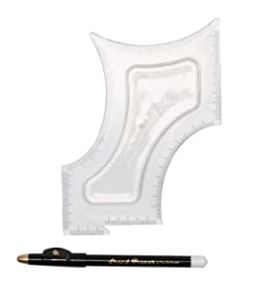 Use The Cut Buddy as a guide to reduce errors and mistakes on your beard, haircut, or mustache so you can feel great about how you look every day.
This shaping tool is built to be flexible for adjusting to all beards and hairlines and to be used with any different hand sizes and different hand grips.
Its multiple curve Sizes/Angles allow for dozens of angles and shapes, promising the perfect cut. It is a great tool for Barbers and Stylists. Find it on Amazon.
Monster & Son Oversized Beard Shaping Tool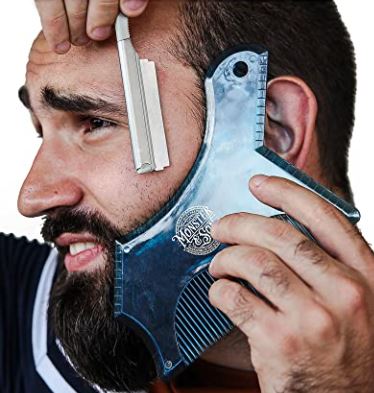 This beard shaping tool combines and improves upon all of the best features from existing tools on the market.
This bigger template is perfect for maneuvering around larger beards and is also easier to grip and manipulate. The angles and curves are mathematically precise, ensuring a perfectly balanced and symmetrical look.
Use this facial hair shaping template and its handy leveling marks as a reference to achieve a symmetrical look quickly and easily! Just place the guide to your face in the desired position and let your razor do the rest. Find it on Amazon.
The Aberlite FlexShaper Neckline Shaping Tool
Creating a neat neckline will tidy up the look of the beard immensely. The key is to avoid the mistake of trimming the neckline too high up on the neck and entering the jawline and face region.
This FlexShaper Beard Neckline Guide is the secret weapon to carve a natural beard neckline. It comes in three colors: white, blue, and green. Men will definitely love it.
It comes with an adjustable elastic headband, so you don't have to use your hands! The elastic headband is adjustable for different head/neck sizes. The elastic headband holds the flexible beard shaper tool firmly and comfortably in the desired place. Find it on Amazon.