If you are a bearded fella, chances are you know how important it is to use a good moisturizer for your beard. For those thinking about growing a beard, you may have been told before that beard moisturizer is a necessity. Either way, beard moisturizer is real and needed. Today we'll tell you about the different types of beard moisturizer and how to use them.
All men with a beard know that beard moisturizer is essential if you want to keep your beard healthy. But there are a lot of different beard moisturizers on the market. How do you know which is the best for your beard? We'll help you understand the different types of beard moisturizers available so you can feel confident in choosing the best option for your specific beard needs.
After all, beard care is a big responsibility, and it is up to you to make your beard literally shine or not. This is where a beard moisturizer enters, and a quality beard moisturizer is a must-have for any bearded fella. So check out some of the types of beard moisturizer for guys who are grooming their facial hair the right way.
What to Know about Beard Moisturizer?
First off, beard maintenance falls between skincare and hair care on the spectrum of men's grooming. The basic tenets of skincare still apply: cleansing, exfoliating, moisturizing, and protecting.
That means having a grooming routine to ensure that a long and strong beard is a step in the right direction. Now your grooming practices need to include, at the very least, a beard moisturizer.
Similar to moisturizing your face, a beard moisturizer will help keep facial hair healthy and protected from outside elements that can dry it out and make it scraggly. Just like a face moisturizer, use this daily to keep everything fresh. And since you're still applying it to your face, make sure you use a moisturizer that contains ingredients that won't clog your pores.
What if you are starting to grow a beard? When you stop shaving, your skin may react by producing more dead cells. They often get trapped in the bristles of the new beard growth, irritating. Frequent application of beard moisturizer is an excellent way to help avoid this problem.
What's the difference between beard moisturizer and beard oil and balms?
A beard moisturizer can also be used as a term to describe anything that can help moisturize and prevent dryness in your facial hair, be it a lotion, beard oil, beard balm, or even beard conditioner.
What makes the lotion-like creamy beard moisturizers different from beard oil and balms is that the lotion is water-based, whereas the oils and balms are obviously oil-based and contain little to no water.
Types of beard moisturizer
Murdock London Beard Moisturizer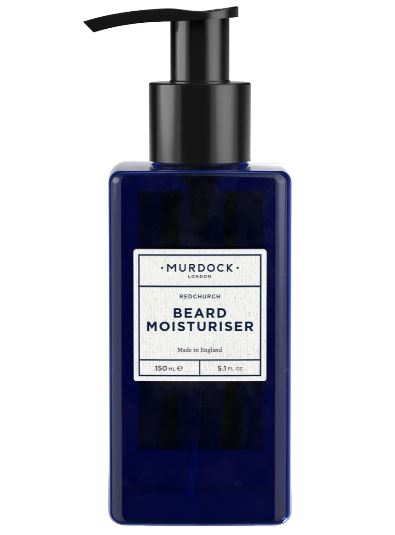 This is an all-in-one beard moisturizer that conditions and softens facial hair and the skin underneath.
It leaves your beard looking healthier and feeling more comfortable for you and anyone who comes near it. Natural Beauty & Wellness products are free of sulfates, phthalates, parabens, petrochemicals, mineral oil, silicone, and talc; also free of PEGs and synthetic dyes.
To use it, run two pumps upward through your facial hair, as close to the skin as possible daily. Shop at Nordstrom.
Frederick Benjamin Beard Creme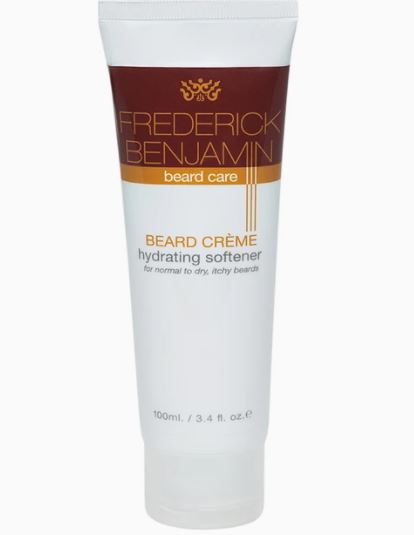 Meet your new must-have, daily moisturizer. This cream is packed with natural ingredients like anti-inflammatory bergamot and moisturizing hemp seed oil to help keep wiery beard hairs smooth and cut down on itch somewhere between a beard conditioner and a beard balm.
This lightweight crème helps soften, moisturize, and refresh even the toughest beards. Incorporate it into your daily routine to keep your look 100% on point.
To use apply the desired amount of crème to wet or damp beard. Massage directly onto skin and throughout hair follicles. Style as usual. Shop at Frederick Benjamin.
Beardsley Moisturizer Lotion for Beards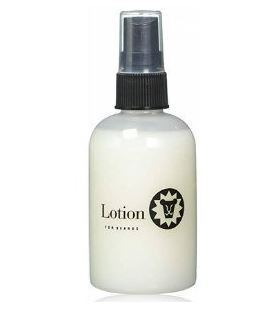 Beardsley Lotion for Beards is a unique product with a cooling, aromatic Bay Rum scent; it is perfect for mustaches, too; it will just last you twice as long.
Botanical ingredients are especially soothing to the skin. Beardsley and Company have created special formulas for beards that are recognized worldwide as a premier brand.
Beardsley Lotion is specially formulated for facial hair. Apply 2 to 3 sprayer depressions, rub palms together and massage into beard. Brush and style. Find it on Amazon.
Mr. Rugged Beard Lotion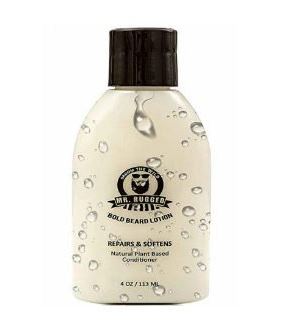 Forget about split ends on your beard; the wheat amino acids in this beard lotion helps to mend split ends and reinforce growth to reduce the risk of breakage. Helps in faster and quicker beard growth.
Its conditioning Pro-Vitamin B5 helps neutralize fringe to make the bushiest and fullest beards easier to manage.
It also contains proteins that will help you nurture and grow the most majestic beard possible. This leave-in beard conditioner will replenish essential oils and nutrients to hair follicles. Find it on Amazon.
KEEPIT HANDSOME Men's Beard Moisturizer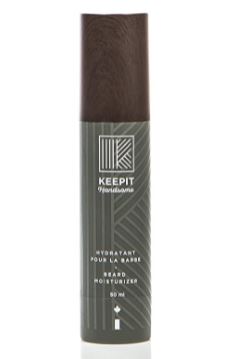 Keep it Handsome Beard Moisturizer uses a blend of emollients to ensure that your facial hair, whether long or short, is penetrated and hydrated all the way to your skin, where it doubles as a moisturizer to the skin as well as beard.
It offers grooming manageability with a nongreasy and non-flaky formula that keeps your skin and hair moisturized against the elements.
To use, apply a small amount for stubble and short beards, or a generous amount for medium to long beards onto the skin and work your way to cover all your facial hair. Find it on Amazon.
Rugged Bros Beard Moisturizer for Men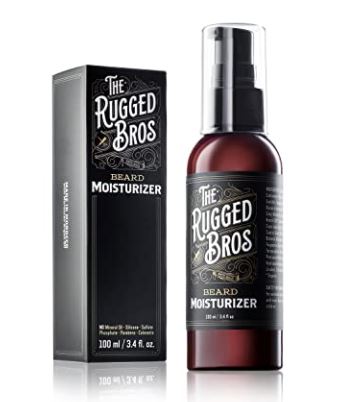 When all the oils, balm, and gel fall short, switch to this fantastic moisturizer. This lightweight beard grooming treatment locks in moisture, offers superior hydration for your face and beard, leaving you and your facial hair with a healthy glow. It is also great to give love to your stache.
If you have a scruffy, scratchy, untamable beard, this soft moisturizing cream is for you. It has a subtle orange blossom scent that will leave you feeling fresh, even after those long hours.
You can apply twice daily before you go to sleep and after you wash your face later in the day. Find it on Amazon.
How to choose a moisturizer based on your beard type?
How to know whether to choose between a balm, an oil, or a moisturizer? Whether all these products offer moisturizing effects, it is a matter of what your beard needs specifically to know which way is the right way.
Thick beards: Most professionals will recommend an oil and a moisturizer. Oil will help to keep the beard hydrated after you wash and condition it. If you're constantly battling frizz and flyaway hairs, then you may also want to throw in a beard balm or wax.
Fine beards: If you have a fine beard, stay away from beard oil and choose a beard butter or balm to style it. Wash your hair regularly and condition using a moisturizer.
Longbeards: You'll be ok with a beard butter or balm since both types of products are easier to work through your beard.
Short Beards: You should use a wash-out moisturizer regularly. Oils can help with the intense itchiness that most new beard wearers experience.