Trouble growing facial hair? We hear you; beards seem to be everywhere, and we can't blame you for wanting to match that awesome look of your friends. If you are looking to grow the beard of your dreams, you are in the right place because we'll be telling you everything you need to know about beard growth supplements and how these can be a game-changer in your beard growth journey.
Though it is certainly not impossible, there's also not a magic potion that you can drink and make you grow a beard overnight. However, the chances are that beard growth supplements are as close as it gets to a magic potion.
But let's be honest, while some tips encourage hair growth, it all boils down to genetics at the end of the day. Just as your DNA determines your hair color, the same principle is applied to your facial hair growing propensities and patterns. And here is where the beauty of supplements comes in because, with supplements, you are encouraging beard growth from the inside, which can accelerate hair growth, and promote the health of your facial hair, and ultimately maximize your body's potential for facial hair growth.
There are tons of supplements you may want to try before completely giving up on the beard of your dreams. So, check out the following beard-growing boosting supplements to give you the best possibilities for the beard you were always meant to have.
Why take beard growth supplement?
Beard supplements are a blend of mineral and multivitamins but, you may be thinking that the same natural vitamins and nutrients you might find in other supplements are present in beard growth supplements, so why take them? the answer is simple, the vitamins and nutrients in beard growth supplements are concentrated in amounts designed to encourage beard growth.
If you're not getting enough vitamins in your diet, beard growth supplements can be a way to reinforce deficiencies while promoting the thickness and healthiness of your facial hair.
Just imagine the struggle of growing your beard, going through the itchiness and dryness only to unveil a patchy and uneven beard. Well, a beard growth supplement can make the difference, and these are also helpful with your overall health, so why not give them a chance.
Pros and Cons of beard growth supplements
If you are still not convinced, among the benefits we find in taking beard growth supplements include:
Promotion of healthy hair and nail growth
Say goodbye to beard dandruff
Better skin texture
Could slow down hair aging
Unclogged pores
Alright, so there's the slight possibility of your body reacting negatively to some additives in the supplements. Reported effects are:
Diarrhea
Pimple breakout
Constipation
Beard growth supplements
Remember to be on the lookout for supplements that contain Biotin for overall improved beard quality, testosterone for facial hair growth stimulation, and all-natural ingredients. Check out our top 10 picks for beard growth supplements.
Beard Growth Gummies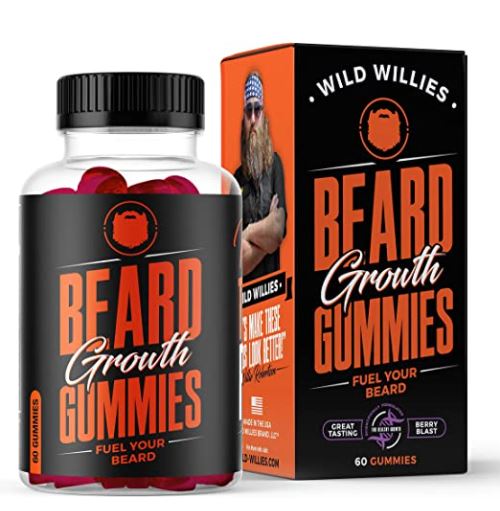 This beard growth supplement works by activating hair follicles to grow more hair, increases the speed and rate of growth and increases the overall volume and thickness of hairs.
The Beard Growth Supplement is delivered in gummy form with the delicious berry blast flavor. It is made with an exclusive Biositol Complex 1, a cutting-edge complex containing Choline Birarate, MSM & Inositol, clinically proven to power beard growth.
The formulation also includes 19 additional vital beard growth nutrients. Ingredients include Vitamin A, Vitamin C, Vitamin D3, Vitamin E, Vitamin B6, Folic Acid, Vitamin B12, D-Biotin, Pantothenic Acid, Zinc, Iodine, Sugar, Malt Syrup, Glucose, Modified Starch, Pectin, Citric Acid, Sodium Citrate, Natural Strawberry Flavor, Coconut Oil, Black Carrot Juice Concentrate. Find it on Amazon.
Mens Beard Growth Vitamins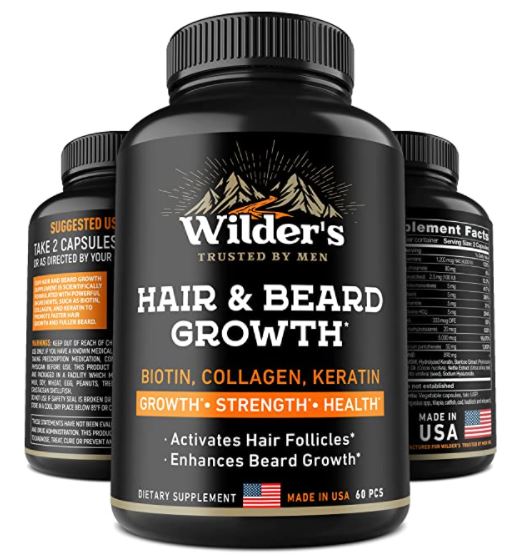 Grow a fuller, thicker beard that others envy with Wilder's Beard Growth Vitamins For Men. Their biotin, collagen, and keratin hair capsules are packed with nutrients that help activate hair follicles, supporting the natural growth of beards, mustaches, goatees, and sideburns.
This regrowth supplement is formulated with nutrient-dense ingredients proven to help promote scalp health and fill the gaps in your nutritional profile to give you the best opportunity for uninterrupted growth.
This is packed with 7 B-Vitamins and Vitamin D3, which are known to help enhance the body's immune system responses and promote overall feelings of wellness. Improve thin, patchy facial hair with just 2 capsules a day. Find it on Amazon.
MEN'S HAIR Hair Growth Vitamins For Men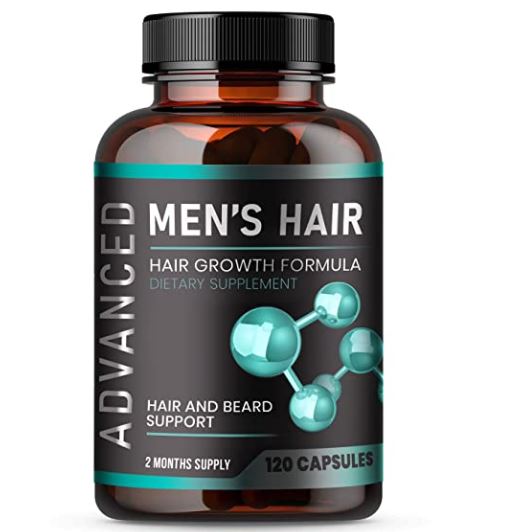 Men's Hair supplements are formulated for male hair loss, especially for men currently experiencing thinning hair and hair loss due to stress, bad diet, aging, and unhealthy lifestyle.
Men's Hair supplement has all-natural ingredients and is developed to help strengthen weak and brittle hair, reduce hair loss, and helps to induce the growth of new hair, making hair stronger and thicker.
This hair supplement for men contains 16 unique ingredients, and it also helps reduce GREY HAIR and supports all four HAIR SKIN AND NAILS and BEARD. Find it on Amazon.
ALPHA BEARD Growth Vitamins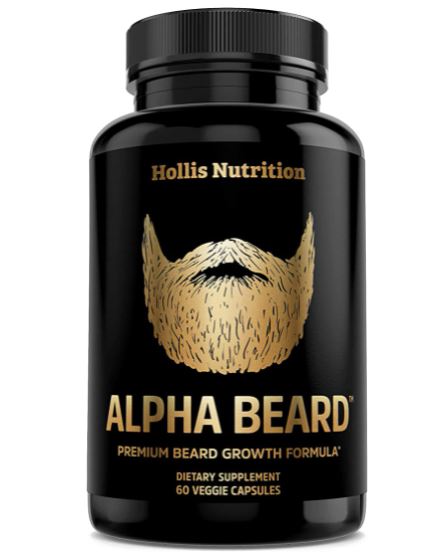 Alpha Beard Hair Vitamins for men ensure optimal nutrient intake so you can grow thick and manly facial hair that is healthy and strong.
Their meticulous formulation of Biotin, MCT Oil, and other essential vitamins spares you the guesswork and expense of combining individual vitamins and collagen pills so you can get down to the business of sporting a handsome beard or mustache.
The special blend of proven ingredients carries nutrients to hair cells faster and promotes circulation to stimulate follicles. Vitamin E and aloe vera work to moisturize the skin so that both old hair and new hair are strong and resistant to split ends. This results in less trimming, so your beard can flourish without breakage. With ginseng working to increase the number of papilla cells, your beard is destined to be thick, full, and irresistible. Find it on Amazon.
Viking Revolution Men's Beard Growth Vitamin Supplement Tablets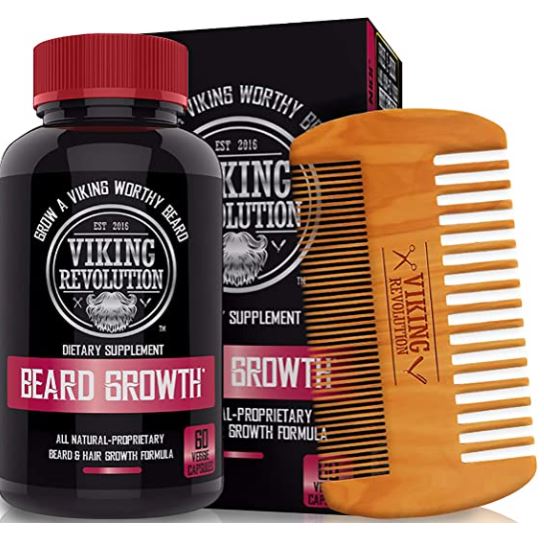 These vitamin pills are great for anyone growing a new beard, but they are also ideal for men with a beard that's growth could be thicker. The beard hair supplement is great for patchy, uneven beards, making them fuller, longer, and healthier.
The tablets are all-natural and contain additional hair growth supporting herbs. These beard growth supplement vitamin pills contain no hormones and have no negative side effects.
Within weeks of using our beard capsules, you could already get to see new and improved hair growth. Find it on Amazon.
Nutra Champs Beard Growth Vitamins Supplement for Men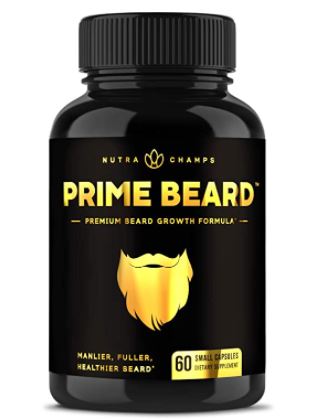 Prime Beard fills the missing gaps from your diet to ensure you're getting all the nutrients you need to cultivate a legendary beard.
Prime Beard is a scientifically designed hair growth supplement that helps you achieve the beard of your dreams. Crafted for all beards, mustaches, goatees, sideburns, and hair on the head, Prime Beard is styled for you.
With 20 essential proteins, vitamins, minerals, and herbs for beard & hair health, you'll be going prime in no time. Perfectly designed for the hair growing needs of men, regardless of ethnicity or beard type. Find it on Amazon.
Vegan Beard Vitamins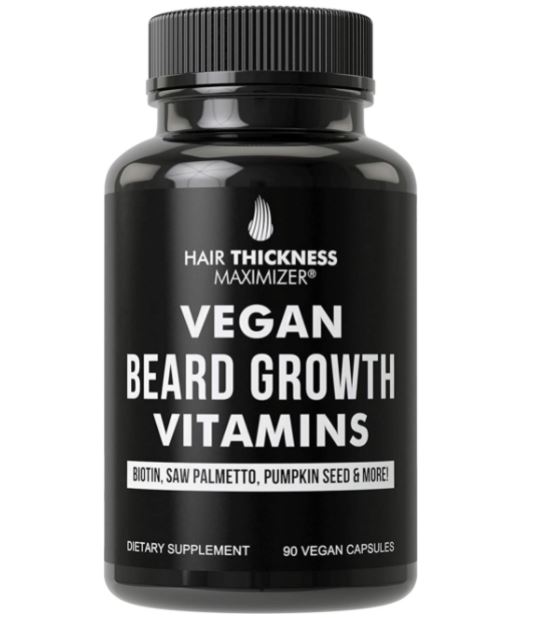 Most beard and hair supplements use synthetic, unnatural formulas and fillers to increase the risk of poor absorption and ineffective results.
With Vegan beard vitamins, you get a SUPER CLEAN VEGAN beard and mustache hair growth vitamins with Biotin and a proprietary blend of Biotin, Saw Palmetto, Pumpkin Seed, Collagen, Bamboo Extract, and more from Hair Thickness Maximizer.
The Benefits of Hair Thickness Maximizer All Saw Palmetto include; promote the Growth of Thick, Healthy Beard, and preserving and straightening existing hair follicles. Designed especially for men, find it on Amazon.
Zhou Iron Growth Vitamin Supplement for Men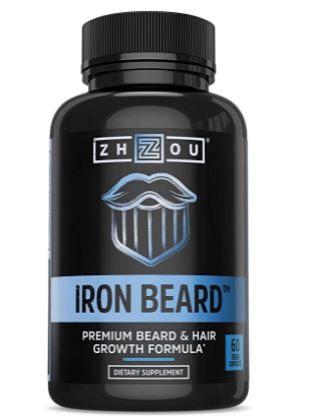 This is a formula scientifically designed for the beard-crafting man. Perfect for all hair types, this trademarked herbal blend delivers hydrolyzed collagen, 18 essential amino acids, Biotin, and more to help you grow the most glorious beard.
It promotes hair growth from the inside out, helping support thicker coverage, healthy growth, and scalp hair, skin, and nail health, too.
Simply take one serving Daily to start seeing results after 3-4 weeks of consistent use. Find it on Amazon.
Beard Grow XL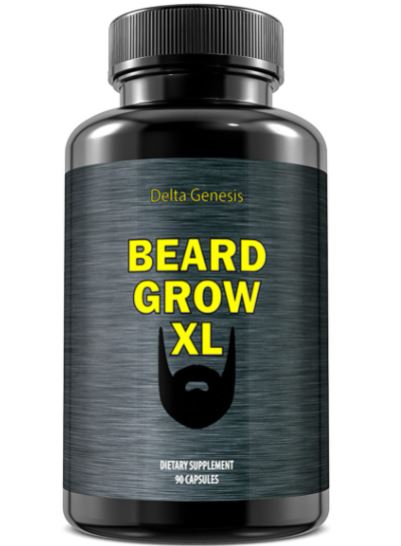 Beard Grow XL will help you achieve a dense, healthy, and great-looking beard that will make you stand out from the rest.
This is marketed as the #1 Beard Grow Support Vitamin Formula to promote healthy facial hair growth. Beard Grow XL contains highly selective ingredients; it has been specially formulated to be 100% Vegan and Vegetarian. Beard Grow XL is also Gluten-Free.
It is effective for all ethnicities & facial hair types. Beard Grow XL helps with your beard, mustache, sideburn, chin/neck hair density, and growth. Find it on Amazon.
Herb Tonics Vitamins Beard Growth Supplement for Men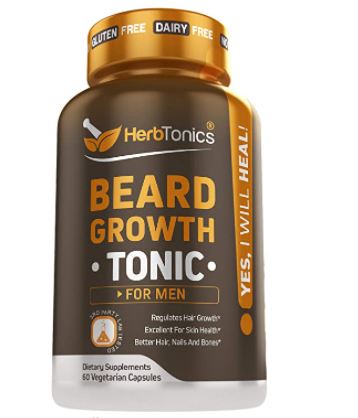 This beard growth supplement is specially formulated with the highest quality vitamins and minerals on the market to help give your body the essential vitamins and minerals it needs to grow thicker and fuller facial hair.
It contains Saw Palmetto extract, which helps you maintain normal DHT levels, which prevents hair loss and pattern baldness. It promotes hair growth so that you can grow a lush, full, stronger, and thicker beard. Other key ingredients include Horsetail extract, Biotin, and multivitamins. Find it on Amazon.