For all the bearded gentlemen out there, beard care is not just a fashion statement; it's a lifestyle. When it comes to beard grooming, there are a lot of options. You can find beard oils, beard combs, beard brushes, scissors, and more. Beard scissors are a really cool grooming tool that most guys don't really care about. But today, we'll be telling you about the best types of beard scissors around.
Beard scissors are a small but essential grooming tool that can make your beard look more manicured and tidy. Now, imagine if you can't make it to your barber, you still need to keep your beard well-groomed, and for that, you need to ensure that you're using the best beard scissors on the market. So if you're thinking about growing a beard, it is a good time to invest in a pair of scissors.
The beard scissors are a vital tool for men who are striving to keep their facial hair well-groomed. And beards are a very personal thing, so what may be the best type of beard scissors for one person may not be the best for another. But which is the best one? We'll be taking a look at the best types of beard scissors.
What to Look for When Buying Beard Scissors?
Although we know you love your trimmer, did you know that with beard scissors, you can blend and trim your beard in certain areas quickly and easily with more precision than a beard trimmer.
If you've made up your mind to buy a good pair of scissors, you should consider:
Comfort: While basic scissors offer effectiveness, you may want to opt for those that offer comforting features like rubber cushions, ergonomic design, or adjustable tension.
Material: The quality of the steel, as well as the particular way of fabrication, plays a big part in the sharpness of the blades of your scissor. Bad quality scissors will only end up pulling at the hair without cutting.
Shape: Some designs are made to protect your skin from cuts like those with a round shape at the end. You may also want a more precise one, and for that, you would need scissors with pointed ends.
Beard Scissors
The best beard scissors have precision blades made of stainless steel and balanced tension for a professional cutting experience.
Top barbers only use quality mustache and beard scissors that offer a comfortable grip handle with wide finger holes for precise control.
Lucky Franc's Japanese Scissors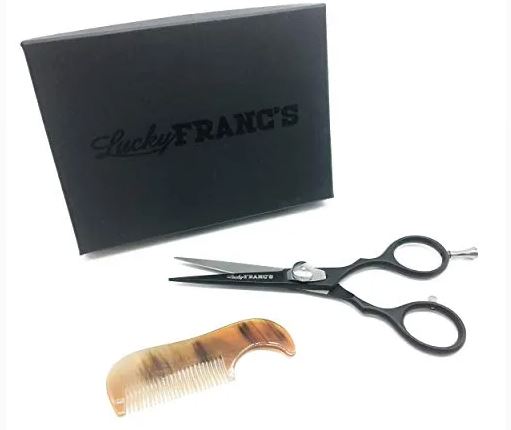 This mustache comb and scissors set is a perfect combo for your daily grooming and styling routine; Kit includes Japanese stainless steel beard trimming scissors and a natural ox horn fine-tooth comb for boys.
These 6.25″ long with 2.5″ blade beard grooming scissors are made from superior quality Japanese stainless steel, ensuring precision cutting; powder-coated in black for a durable finish and armed with a tension knob to adjust the tightness.
These Japanese stainless steel Scissors are every barber's dream. This purpose-designed for ultimate comfort in focus beard scissors for men pair precision and craftsmanship, ensuring razor-sharp and durable qualities. Find it on Amazon.
Beardoholic Beard Scissors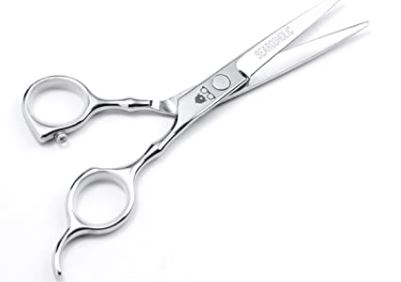 With Beardoholic beard scissors, we are talking about extremely sharp and precise blades. Its curved edge trims all stray hairs smoothly and evenly with just one cut without pulling, tugging, or damaging your beard in the process.
Achieve a clean and effortless, surgically accurate cut every time and eliminate only split ends and stray hairs without sacrificing the length of your beard with these razor-sharp hair cutting scissors.
In addition, it keeps your hand completely steady while you're trimming your mustache, sideburns, and hard-to-access areas faster and with more accuracy than with any other thinning scissors for hair, thanks to its convenient finger rest. Find it on Amazon.
Suvorna Beard Scissors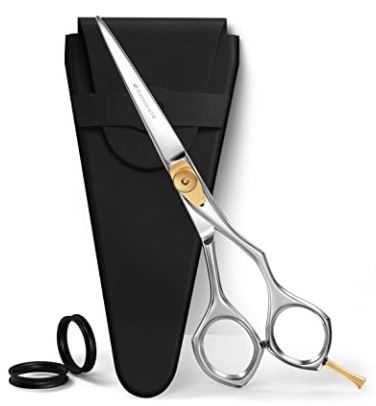 The Suvorna beard scissors are extremely sharp blades that provide a clean-cut, it will not damage or split hair ends.
It is handcrafted, made from high-quality steel that will stay sharper much longer. Simple minimalist screw design for minor tension adjustments and has a matching removable finger rest.
This Convex Edge hair shear blade design is compelling and facilitates smooth and sharp cutting. As the outer face of the blade is curved, this blade type is especially suitable for slide cutting and allows for more advanced cutting techniques to be used. Find it on Amazon.
Equinox Beard Scissors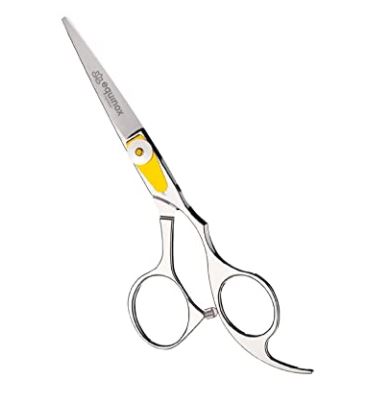 This specialized, high-quality Japanese stainless steel Hair Cutting scissor is tempered with precise blades and hand-sharpened cutting edges.
This professional razor edge hair cutting scissor is great for salon workers, barbers, and personal usage.
With a length of 6.5 inches, this hair-cutting scissor is safe and easy to use on men, women, the elderly, children, and babies. Find it on Amazon.
Tweezerman G.E.A.R. Beard Scissors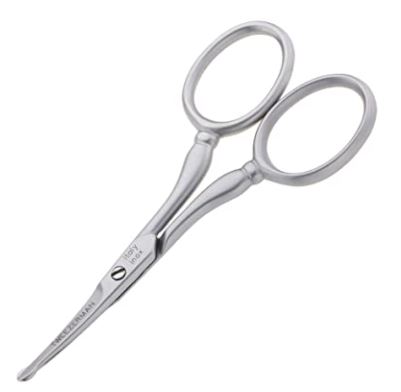 This men's essential won't nick the skin. Their rounded precision blade tip curves away from the skin for safely cutting facial, nose, and ear hairs. Look nick-free and always well-groomed.
They have an ergonomic design with large finger loops that provide added control. Its sharp precision blade is curved and features a rounded tip, so you never cut yourself while trimming in tricky areas.
Made from stainless steel, which means they are extremely affordable and durable, and easy to clean. Find it on Amazon.
ONTAKI Japanese Steel Beard Shears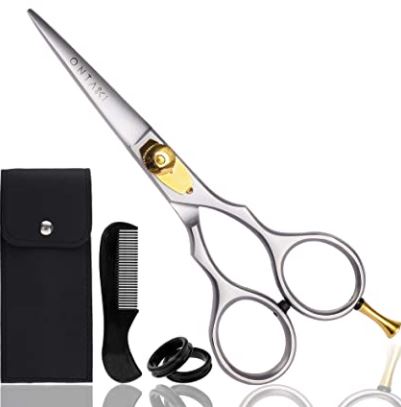 Forged and sharpened by hand and designed using premium Japanese steel, the quality of ONTAKI's 5" Salon Shears is incomparable.
Pros say that with Scissors from Ontaki, you get sensational cutting performance alongside absolute reliability and long-lasting durability.
The ONTAKI Salon Shears feature convex blades for accurate barber wisping, with a rounded tip for optimal safety and smooth cuts. Perfect scissors for mustache, beard, nose hair, body hair, bang trimming, children's hair cuts, pet fur trimming, and more! Find it on Amazon.
TecUnite Beard Trimming Scissors Set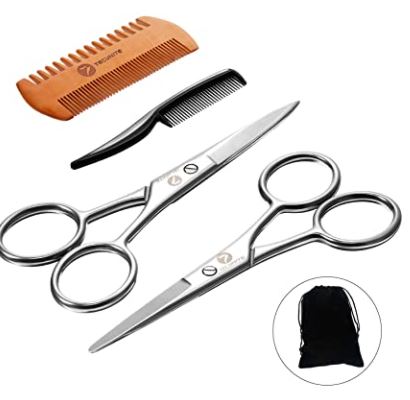 This set makes for essential trimming tools: a must for a man to use daily; the scissors are made of good quality stainless steel, the wooden comb is made of natural anti-static bamboo, and the black one is made of non-toxic PVC.
The beard and mustache set is a classically designed tool; it allows access and agility in those hard-to-reach places and shapes different types of hair. The seamless closure of each scissors' tip enables a quick and tight cut easily and effortlessly.
With full control of the scissors, you're now able to sculpt your masterpiece. Find it on Amazon.
Sanguine Beard and Mustache Scissors.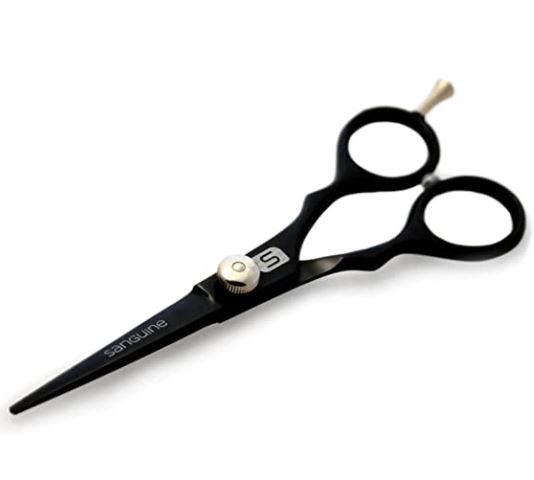 These extremely sharp blades for a clean cut will not damage or split hair ends. They are crafted, made from Japanese steel J2.
Very comfortable working with light-mid weight scissors with a unique deep black color that is appealing to the eye.
Its round, smooth tension screw system gives a greater required tuning. Suitable for Professional as well as for personal use. Find it on Amazon.